The Life Aquatic With Steve Zissou
9:30pm - Sunday, Sep 26, 2021
We're tipping our hat to one of our all-time favourite actors, Bill Murray (on his birthday... And with an encore on September 26) with a screening of writer-director Wes Anderson's 2004 comedy THE LIFE AQUATIC WITH STEVE ZISSOU.
Renowned oceanographer Steve Zissou has sworn vengeance upon the rare shark that devoured a member of his crew. In addition to his regular team, he is joined on his boat by Ned, a man who believes Zissou to be his father, and Jane, a journalist pregnant by a married man. They travel the sea, all too often running into pirates and, perhaps more traumatically, various figures from Zissou's past, including his estranged wife, Eleanor. With Anjelica Huston, Jeff Goldblum, Willem Dafoe, Cate Blanchett.
"It is such a brilliant idea, and everything looks so great, especially the way the film is constructed on Cousteau-esque lines, with the calm deliberation of a nature documentary from a more innocent age." (The Guardian)
"Orson Welles said a film studio was the best train-set a boy could have, but The Life Aquatic is something else: Anderson uses the sound stages of Cinecittá like a kid playing with toy boats in the bath. He makes one hell of a splash." (Independent on Sunday)
Sunday, September 26
Doors 9:00 pm | Movie 9:30 pm *Start time subject to change. Please arrive on time.
Tickets $15 | $15 at the door
THE LIFE AQUATIC WITH STEVE ZISSOU (Wes Anderson, 2004 / 119 mins / PG) While working on a documentary, Steve Zissou's partner gets killed under mysterious circumstances by a shark. Steve and his crew set off on an expedition to hunt it down.
*Minors permitted in the balcony. Must be 19+ w/ID for bar service and main floor seating.
**Rio Theatre Groupons and passes OK. Please redeem at the door, or email <riomanagers@gmail.com> with detailed info if you'd like to redeem in advance.
PLEASE NOTE: We've made some changes.
In addition to now requiring patrons to wear masks in the lobby and restroom areas (optional to remove once seated - or while enjoying buttery popcorn!), we kindly ask everyone to arrive early to ensure enough time for seating and concession purchases. For more information on our new Health & Safety Protocols, please visit <http://riotheatre.ca/the-rios-protocols/>
If you didn't bring a mask with you, they are available for purchase at concession for $1.
All of the Rio Theatre's screenings are operating at a sharply reduced capacity. We can't guarantee availability of tickets at the door, so advance tickets for all screening events are strongly recommended. Online sales for every screening automatically end 1 hour before any given showtime.
Starting September 13, the Rio Theatre will be strictly adhering to all of BC's current Public Health Orders surrounding requisite proof of vaccination for entry to all screenings and events. No valid proof? No entry, no exceptions. Don't like it? Take it up with your MP.
Venue Location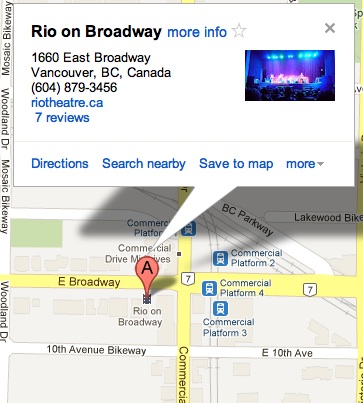 Share this event