Dario Argento's 'Suspiria'
8:15pm - Tuesday, Oct 26, 2021
Join us at the Rio Theatre this October as we continue our annual deep-dive into some of our favourite seasonal fare, which would be incomplete without director Dario Argento's giallo-infused, "candy-coloured," phantasmagoric nightmare of a horror icon SUSPIRIA ("the most terrifying movie ever made!").
This genre-defining cult-classic has been lovingly restored and remastered in glorious 4K - the film's bizarre colour schemes come alive in a whole new way. Buoyed by a phenomenal soundtrack from the Italian band Goblin, SUSPIRIA is "nightmare fuel" for the senses - and can only be truly enjoyed on the big screen... If you dare!
Suzy (Jessica Harper) travels to Germany to attend ballet school. When she arrives, late on a stormy night, no one lets her in, and she sees Pat (Eva Axén), another student, fleeing from the school. When Pat reaches her apartment, she is murdered. The next day, Suzy is admitted to her new school, but has a difficult time settling in. She hears noises, and often feels ill. As more people die, Suzy uncovers the terrifying secret history of the place...
"It's always fascinating to watch; the thrills and spills are so classy and fast that the movie becomes in effect what horror movies seemed like when you were too young to get in to see them." (Time Out)
"The blood pours freely in Argento's classic SUSPIRIA, a giallo horror as grandiose and glossy as it is gory." (Rotten Tomatoes)
"From stormy start to fiery finish, it's a stylish, compelling, phantasmagoric movie." (The Observer)
Tuesday, October 26
Doors 7:45 pm | Movie 8:15 pm *Start time subject to change. Please arrive on time.
Tickets $15 in advance | $15 at the door
Due to reduced capacity, advance tickets are recommended for all shows to ensure seating. Online sales for every screening automatically end 1 hour before any given showtime.
SUSPIRIA (Dario Argento, 1977 / 92 mins/ 18A) | A newcomer to a fancy ballet academy gradually comes to realize that the school is a front for something far more sinister and supernatural amidst a series of grisly murders.
*Minors permitted in the balcony. Must be 19+ w/ ID for bar service and main floor seating.
**Rio Theatre Groupons and passes OK. Please redeem at the door, or email <riomanagers@gmail.com> with detailed info if you'd like to redeem in advance.
PLEASE NOTE: We've made some changes.
In addition to now requiring patrons to wear masks in the lobby and restroom areas (optional to remove once seated - or while enjoying buttery popcorn!), we kindly ask everyone to arrive early to ensure enough time for seating and concession purchases. For more information on our new Health & Safety Protocols, please visit <http://riotheatre.ca/the-rios-protocols/>
If you didn't bring a mask with you, they are available for purchase at concession for $1.
All of the Rio Theatre's screenings are operating at a sharply reduced capacity. We can't guarantee availability of tickets at the door, so advance tickets for all screening events are strongly recommended. Online sales for every screening automatically end 1 hour before any given showtime.
Starting September 13, the Rio Theatre will be strictly adhering to all of BC's current Public Health Orders surrounding requisite proof of vaccination for entry to all screenings and events. No valid proof? No entry, no exceptions. Don't like it? Take it up with your MP.
Venue Location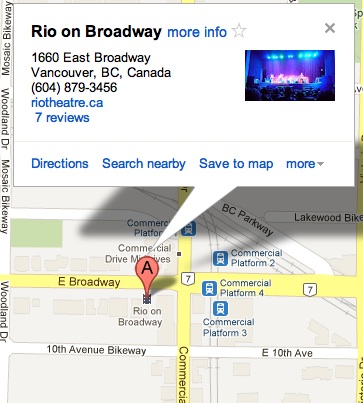 Share this event