Perfect Sacrifice: A Tribute to Elton John & Ed Sheeran
8:00pm - Saturday, Sep 17, 2022
Elton John and Ed Sheeran is the ultimate UK tribute – an evening of acoustic brilliance!
Jeff Scott, based out of Richmond Hill, Ontario, has been performing the music of Elton John for over 20 years. His stage show features an array of dazzling outfits, superb and skillful piano playing, and, of course, the distinctive and powerful vocals we have come to know and love.
Daniel East is a powerful British performer. East performs all of Sheeran's top hits, such as "Castle on the Hill", "Shape of You", "Perfect", "Photograph", "Thinking Out Loud", "Shivers", "Bad Habits" and more. You'll be immersed in all things Ed Sheeran - with a surprise twist that will leave you wanting more!
Saturday, September 17
Doors 7:00 pm | Show 8:00 pm *Start time subject to change. Please arrive on time.
Advance tickets $45 + s/c | $50 at the door
*All seating is general admission.
*Minors permitted. Must be 19+ w/ID for bar service.
*Sorry, Rio Theatre Groupons and passes n/a for this event.
Advance tickets are recommended for all shows to ensure entry and seating. Online sales for live shows automatically end two hours before any given showtime.
In accordance with the Province of British Columbia's current PHO from the Ministry of Health, all eligible patrons must present their proof of vaccine status for entry. No exceptions.
*Minors permitted. Must be 19+ w/ ID for bar service.
PLEASE NOTE: We've made some changes.
In addition to now requiring patrons to wear masks in the lobby and restroom areas (optional to remove once seated - or while enjoying buttery popcorn!), we kindly ask everyone to please arrive early to ensure enough time for seating and concession purchases. For more information on our new Health & Safety Protocols, please visit <http://riotheatre.ca/the-rios-protocols/>
If you didn't bring a mask with you, they are available for purchase at concession for $1.
We can't guarantee availability of tickets at the door, so advance tickets for all screening events are strongly recommended. Online sales for every screening automatically end one hour before any given showtime.
The Rio Theatre strictly adheres to all of BC's current Public Health Orders surrounding requisite proof of vaccination for entry to all screenings and events. No valid proof? No entry, no exceptions. Don't like it? Take it up with your MP.

Venue Location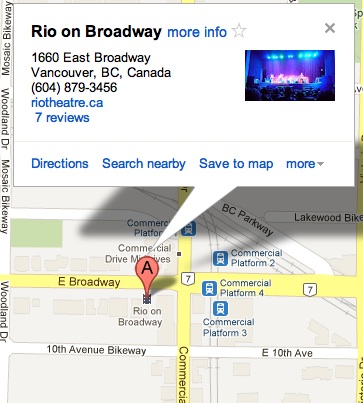 Share this event