Predator
11:45pm - Friday, May 27, 2022
Nothing like it has ever been on Earth before.
It came for the thrill of the hunt.
It picked the wrong man to hunt.
The Rio Theatre's Friday Late Night Movie series continues on May 27 with a screening of one of the 80s' biggest sci-fi action-horror-thrillers (it really does have everything), PREDATOR.
In director John McTiernan's blockbuster, Arnold Schwarzenegger stars as soldier of fortune Dutch, who is hired by the U.S. government to secretly rescue a group of politicians trapped in Guatemala. But when Dutch and his team, which includes weapons expert Blain (Jesse Ventura!) and CIA agent George (Carl Weathers!), land in Central America, something is, well... Wrong. After finding a string of dead bodies, the team intrepid commandos discover that the hunters have become the hunted.
"It is so lean, so exciting and so imaginative that you can watch it every month or two, year in and year out, and never get tired of it." (The Hollywood Reporter)
"It's a slick, high-energy action picture that takes a lot of its strength from its steamy locations in Mexico." (Roger Ebert)
Friday, May 27
Doors 11:15 pm | Movie 11:45 pm *Start time subject to change. Please arrive on time.
PREDATOR (John McTiernan, 1987 / 107 mins / 18A) Dutch and his group of commandos are hired by the CIA to rescue downed airmen from guerillas in a Central American jungle. The mission goes well but as they return they find that something is hunting them. Nearly invisible, it blends in with the forest, taking trophies from the bodies of its victims as it goes along. Occasionally seeing through its eyes, the audience sees it is an intelligent alien hunter, hunting them for sport, killing them off one at a time.
*Minors permitted. Must be 19+ w/ ID for bar service. All seating is general admission.
**Rio Theatre Groupons and passes OK for any single film only. Please redeem at the door, or email <riomanagers@gmail.com> with detailed info if you'd like to redeem in advance.
Venue Location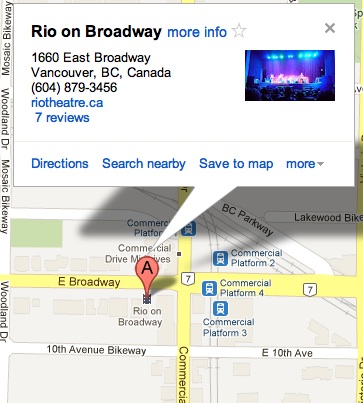 Share this event