Holy Spider (Final Screening)
4:05pm - Sunday, Jan 29, 2023
Female journalist Rahimi (Zar Amir Ebrahimi) travels to the Iranian holy city of Mashhad to investigate a serial killer who believes he is doing the work of God, cleansing the streets of sinners by murdering sex workers. As the body count mounts and Rahimi draws closer to exposing his crimes, the opportunity for justice grows harder to attain as the 'Spider Killer' is embraced by many as a hero.
Based on the horrific true story of serial killer Saeed Hanaei, acclaimed writer-director Ali Abbasi (BORDER) unveils a gripping crime thriller, and a daring indictment of a society in which rough justice is routinely a fact of life.
Despite being banned in Iran, HOLY SPIDER is the winner of numerous accolades and awards at film festivals across the world (including the Best Actress award for newcomer Zar Amir-Ebrahimi and a nomination for the coveted Palme d'Or at the Cannes Film Festival), and is Denmark's official submission for the 2023 Academy Awards.
"A crisp, engrossing, and disturbing crime thriller." (Observer)
"A striking film in any case, especially with what is going on in Iran right now... It's well constructed and allows us to see the greater society through this Iranian woman." (NPR)
"'Holy Spider' trickily manages to bridge the gap between social realism and exploitation cinema in a way that hints at how both are rooted in a similar place of gritty authenticity." (Slant Magazine)
"The whole film is pitched between a howl of rage and a gasp of disbelief." (Irish Times)
"If the first half of the film shies away from the cheap thrills of its serial killer story, the pointed banality of its final chapters proves as horrifying this genre ever gets." (indieWire)
Sunday, January 29 (Final Screening)
Doors 3:50 pm | Movie 4:05 pm *Start time subject to change. Please arrive on time.
HOLY SPIDER (Ali Abbasi, 2022 / Persian with English subtitles / 18A) A journalist descends into the dark underbelly of the Iranian holy city of Mashhad as she investigates the serial killings of sex workers by the so called "Spider Killer", who believes he is cleansing the streets of sinners.
*Minors permitted. Must be 19+ w/ID for bar service. Rio Theatre Groupons and passes OK for any single film screening only. Please redeem at the box office.
*Advance ticket sales end an hour before showtime; unless otherwise noted tickets are available for purchase at the door.
*If you are looking to redeem your tickets to either a canceled Rio Theatre screening or a Rio Theatre gift certificate, please email <riomanagers@gmail.com> with info including your name, canceled receipt number, gift certificate info, what you are wanting to see and when, and we can make the switch for you in advance. Alternately, you can bring this information with you to the venue, and we will do our best to help you at the box office.
Venue Location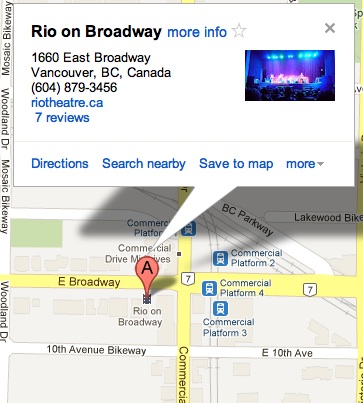 Share this event