What We Do In The Shadows
10:15pm - Monday, Oct 25, 2021
From the writing-directing team of Jemaine Clement (FLIGHT OF THE CONCHORDS) and Taika Waititi (JOJO RABBIT, HUNT FOR THE WILDERPEOPLE, THOR: Ragnarok) comes a bloody high-larious tale in which an endearingly un-hip quartet of kiwi vampire friends reveal to us or, rather, to the documentary crew that's filming them, the details of their daily-make that nightly-routine. Ranging in age from 183 to 8,000, and in appearance from adorably youthful to Nosferatu-crusty, they squabble over household chores, struggle to keep up with the latest trends in technology and fashion, antagonize the local werewolves, cruise clubs for lovely ladies, and deal with the rigors of living on a very, very strict diet. Also starring Rhys Darby, Jonathan Brugh, Cori Gonzalez-Macuer, Stu Rutherford, and Jackie Van Beek.
"Here it is at long last: a truly great vampire comedy. And also the funniest horror film to come out of New Zealand since Braindead." (Empire Magazine)
Monday, October 25
Doors 9:45 pm | Movie 10:15 pm *Start time subject to change. Please arrive on time.
Advance tickets $15 | $15 at the door
WHAT WE DO IN THE SHADOWS (Jemaine Clement & Taika Waititi, 2015 / 86 mins / 14A) Follow the lives of Viago, Deacon, and Vladislav – three flatmates who are just trying to get by and overcome life's obstacles-like being immortal vampires who must feast on human blood. Hundreds of years old, the vampires are finding that beyond sunlight catastrophes, hitting the main artery, and not being able to get a sense of their wardrobe without a reflection, modern society has them struggling with the mundane like paying rent, keeping up with the chore wheel, trying to get into nightclubs, and overcoming flatmate conflicts.
*Minors permitted in the balcony. Must be 19+ w/ID for bar service and main floor seating.
*In accordance with the Province of British Columbia's current PHO from the Ministry of Health, all eligible patrons must present their proof of vaccine status for entry. No exceptions.
*Rio Theatre Groupons and passes OK for any single film screening only. If you are looking to redeem your tickets to either a canceled Rio Theatre screening or a Rio Theatre gift certificate, please email <riomanagers@gmail.com> with info including your name, canceled receipt number, gift certificate info, what you are wanting to see and when, and we can make the switch for you in advance. Alternately, you can bring this information with you to the venue, and we will do our best to help you at the box office.
PLEASE NOTE: We've made some changes.
In addition to now requiring patrons to wear masks in the lobby and restroom areas (optional to remove once seated - or while enjoying buttery popcorn!), we kindly ask everyone to arrive early to ensure enough time for seating and concession purchases. For more information on our new Health & Safety Protocols, please visit <http://riotheatre.ca/the-rios-protocols/>
If you didn't bring a mask with you, they are available for purchase at concession for $1.
All of the Rio Theatre's screenings are operating at a sharply reduced capacity. We can't guarantee availability of tickets at the door, so advance tickets for all screening events are strongly recommended. Online sales for every screening automatically end 1 hour before any given showtime.
Venue Location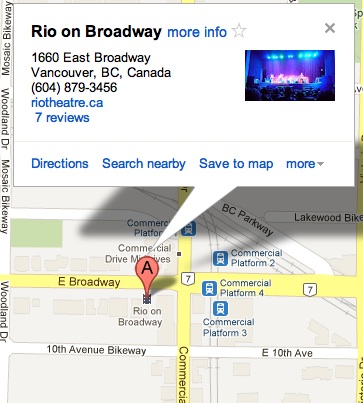 Share this event