The Matrix (1999 Re-issue)
10:00pm - Friday, Dec 10, 2021
"There is no spoon."
Join us at the Rio Theatre for a much-needed, big screen re-visitation of the Wachowski's landmark 1999 blockbuster, THE MATRIX - one of the most influential, martial-arts fueled, futuristic cyber-punk sci-fi fantasies ever made. (The version of the film we are playing is the limited, special re-release; conveniently timed in advance of the upcoming THE MATRIX RESURRECTIONS, which opens wide on December 21, 2021.)
Set in 1999, Keanu Reeves stars as Thomas A. Anderson (hacker alias: "Neo"), a man living two lives; he spends his days working in a cubicle manning a computer, and at night he does a little hacking on the side. (Although, he may also really be a pawn in a giant virtual-reality game controlled by twenty-second-century programmers...) Neo believes that Morpheus (Laurence Fishburne), an elusive figure considered to be the most dangerous man alive, can answer his burning question -- "What is the Matrix?" Neo is contacted by Trinity, a beautiful stranger who leads him into an underworld where he meets Morpheus. They fight a brutal battle for their lives against a cadre of viciously intelligent secret agents. It is a truth that could cost Neo something more precious than his life. Also starring Carrie-Anne Moss, Hugo Weaving, and Joe Pantoliano.
"THE MATRIX soars." (Rolling Stone Magazine)
"The deliciously inventive Wachowskis have delivered the syntax for a new kind of movie: technically mind-blowing, style merged perfectly with content and just so damn cool." (Empire Magazine)
"A technologically stunning movie that furthers the genre and features crowd-pleasing performances to go with the frequent scenes of gunplay and violence." (Hollywood Reporter)
"Where other films are done in by the freedom offered by computer effects, THE MATRIX integrates them beautifully." (AV Club)
Friday, December 10
Doors 9:30 pm | Movie 10:00 pm *Start time subject to change. Please arrive on time.
Advance tickets $15 | $15 at the door
THE MATRIX (1999 Reissue) (The Wachowskis, 1999 / 140 minutes / 14A) | A computer hacker learns from mysterious rebels about the true nature of his reality and his role in the war against its controllers
*Minors permitted in the balcony. Must be 19+ w/ID for bar service and main floor seating.
**Rio Theatre Groupons and passes OK. Please redeem at the door.
PLEASE NOTE: We've made some changes.
In addition to now requiring patrons to wear masks in the lobby and restroom areas (optional to remove once seated - or while enjoying buttery popcorn!), we kindly ask everyone to arrive early to ensure enough time for seating and concession purchases. For more information on our new Health & Safety Protocols, please visit <http://riotheatre.ca/the-rios-protocols/>
If you didn't bring a mask with you, they are available for purchase at concession for $1.
All of the Rio Theatre's screenings are operating at a sharply reduced capacity. We can't guarantee availability of tickets at the door, so advance tickets for all screening events are strongly recommended. Online sales for every screening automatically end 1 hour before any given showtime.
The Rio Theatre strictly adheres to all of BC's current Public Health Orders surrounding requisite proof of vaccination for entry to all screenings and events. No valid proof? No entry, no exceptions. Don't like it? Take it up with your MP.
Venue Location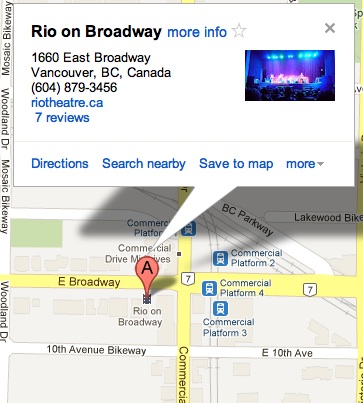 Share this event