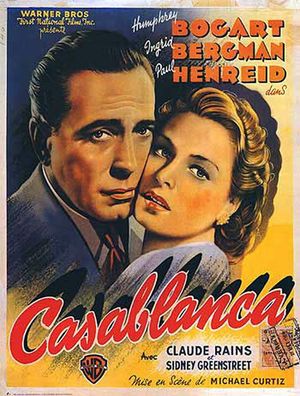 Casablanca
6:30pm - Tuesday, Feb 12, 2019
"Of all the gin joints, in all the towns, in all the world, she walks into mine."
Can there be anything said about CASABLANCA that hasn't already been said? Sitting comfortably at the #1 spot on the American Film Institute's '100 Greatest Love Stories of All Time,' this enduring classic romance remains one of the most important films Hollywood ever produced (with one of the most instantly recognizable music scores!). Released in 1942 against the unfolding backdrop of World War II, American expat Rick Blaine (Humphrey Bogart, at his most charismatic) must choose between his love for former flame Ilsa Lund (an exquisite Ingrid Bergman) and helping her Czech Resistance leader husband escape the Vichy-controlled French-Moroccan city of Casablanca so that he can continue his fight against the Nazi regime. Also starring Paul Henreid, Peter Lorre.
"Nobody lights a torch like Ingrid Bergman's Ilsa or carries one like Humphrey Bogart's Rick." (Chicago Tribune)
"CASABLANCA is the most sociable, the most companionable film ever made. Life as an endless party." (The New Yorker)
Tuesday, February 12
Doors 6:00 pm | Movie 6:30 pm
Single film advance tickets $10.50 | $12 .50 at the door
*Minors welcome in the balcony! Must be 19+ w/ID for bar service and main floor seating.
*Groupons and passes OK for any single film. Please redeem at the door.
CASABLANCA (Michael Curtiz, 1942 / 102 mins / PG) | Set in Casablanca, Morocco, during the early days of World War II. An American expatriate meets a former lover, with unforeseen complications.
Tickets no longer on sale for this event.
This event is over! Check out our events currently on sale