Mad Max: Fury Road
11:00pm - Friday, Jun 25, 2021
What a lovely day!
Australian director George Miller managed to reboot his own iconic MAD MAX franchise with the triumphant 2015 release of the universally acclaimed FURY ROAD, a commercial and critical hit that went on to win numerous accolades, including six Oscars.
Tom Hardy stars as the titular Mad Max Rockatansky alongside Charlize Theron, Nicholas Hoult, and Hugh Keays-Byrne in this wildly imaginative and visually stunning post-apocalyptic dystopian desert fantasy. Years after the collapse of civilization, the tyrannical Immortan Joe enslaves apocalypse survivors inside the desert fortress the Citadel. When the warrior Imperator Furiosa (Theron) leads the despot's five wives in a daring escape, she forges an alliance with Max Rockatansky (Hardy), a loner and former captive. Fortified in the massive, armored truck the War Rig, they try to outrun the ruthless warlord's henchmen in a high-speed, deadly chase through the Wasteland.
Friday, June 25
Doors 10:40 pm | Movie 11:00 pm *Start time subject to change. Please arrive on time.
Tickets $15 in advance | $15 at the door
MAD MAX: FURY ROAD (George Miller, 2015 / DCP / 120 mins / 14A) An apocalyptic story set in the furthest reaches of our planet, in a stark desert landscape where humanity is broken, and most everyone is crazed fighting for the necessities of life. Within this world exist two rebels on the run who just might be able to restore order. There's Max, a man of action and a man of few words, who seeks peace of mind following the loss of his wife and child in the aftermath of the chaos. And Furiosa, a woman of action and a woman who believes her path to survival may be achieved if she can make it across the desert back to her childhood homeland.
*Minors permitted in the balcony. Must be 19+ w/ID for bar service and main floor seating.
**Rio Theatre Groupons and passes OK. Please redeem at the door.
PLEASE NOTE: We've made some changes.
In addition to now requiring patrons to wear masks in the lobby and restroom areas (optional to remove once seated - or while enjoying buttery popcorn!), we kindly ask everyone to arrive early to ensure enough time for seating and concession purchases. For more information on our new Health & Safety Protocols, please visit <http://riotheatre.ca/the-rios-protocols/>
If you didn't bring a mask with you, they are available for purchase at concession for $1.
All of the Rio Theatre's screenings are operating at a sharply reduced capacity. We can't guarantee availability of tickets at the door, so advance tickets for all screening events are strongly recommended. Online sales for every screening automatically end 1 hour before any given showtime.
Venue Location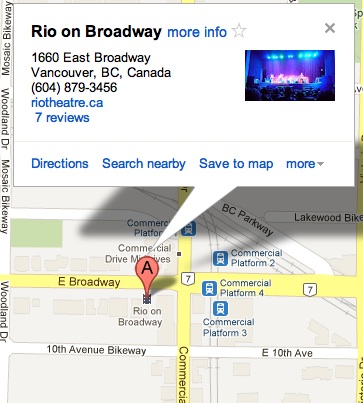 Share this event