Ju-On: The Grudge
10:45pm - Friday, Jul 30, 2021
Japanese director Takashi Shimizu's JU-ON: THE GRUDGE is the ultimate "haunted house" movie - and perfect for a Friday Late Night Movie screening at the Rio Theatre on July 30. Released in 2002, JU-ON has since become firmly enshrined as a true classic of the J-horror genre, spawning numerous sequels and even a remake (in 2004 - also directed by Shimizu, with Sarah Michelle Gellar).
The story follows volunteer home-care worker Rika. When she is assigned to visit a family in their home, she is cursed and chased by two revengeful fiends; Kayako, a woman brutally murdered by her husband, and her son Toshio. Each person that lives in or visits the haunted house is murdered or disappears. A series of seemingly unconnected vignettes, all with a suitably satisfying jolt (including a shower scene Hitchcock would have admired) are slowly pulled together by police investigating the strange events. Starring Megumi Okina, Misaki Ito, Takashi Matsuyama, and Yui Ichikawa.
Friday, July 30
Doors 10:25 pm Movie 10:45 pm *Start time subject to change. Please arrive on time.
Advance tickets $15 | $15 at the door
JU-ON: THE GRUDGE (Takashi Shimizu, 2002 / 92 mins / 18 / Japanese with English subtitles) A mysterious and vengeful spirit marks and pursues anybody who dares enter the house in which it resides.
*Minors permitted in the balcony. Must be 19+ w/ID for bar service and main floor seating.
**Rio Theatre Groupons and passes OK. Please redeem at the door.
PLEASE NOTE: We've made some changes.
In addition to now requiring patrons to wear masks in the lobby and restroom areas (optional to remove once seated - or while enjoying buttery popcorn!), we kindly ask everyone to arrive early to ensure enough time for seating and concession purchases. For more information on our new Health & Safety Protocols, please visit <http://riotheatre.ca/the-rios-protocols/>
If you didn't bring a mask with you, they are available for purchase at concession for $1.
All of the Rio Theatre's screenings are operating at a sharply reduced capacity. We can't guarantee availability of tickets at the door, so advance tickets for all screening events are strongly recommended. Online sales for every screening automatically end 1 hour before any given showtime.
Venue Location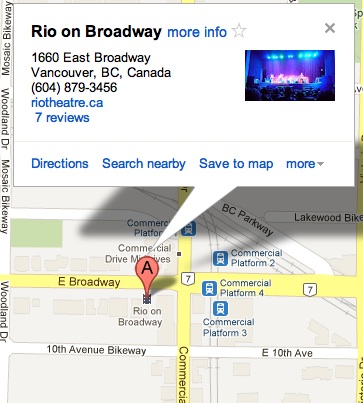 Share this event