Pig
8:15pm - Saturday, Jul 31, 2021
In Michael Sarnoski's revenge-thriller PIG, Nicolas Cage stars as a reclusive truffle hunter in Oregon whose prize hunting pig is kidnapped, forcing him to return to old stomping grounds in Portland and confront his past. With Adam Arkin, Alex Wolff (HEREDITARY).
"While the plot synopsis of Nicolas Cage searching for his kidnapped pig might lead some moviegoers to think 'Pig' is some unconventional riff on the 'Taken' franchise, the trailer suggests an experience far different. 'Pig' seems to operate more in a character study mode than a thriller, although it certainly has elements of the latter." (Indiewire)
Saturday, July 31
Doors 7:45 pm | Movie 8:15 pm *Start time subject to change. Please arrive on time.
Advance tickets $15 | $15 at the door
PIG (Michael Sarnoski, 2021 / 92 mins / 18A) A truffle hunter who lives alone in the Oregonian wilderness must return to his past in Portland in search of his beloved foraging pig after she is kidnapped.
*Minors permitted in the balcony. Must be 19+ w/ID for bar service and main floor seating.
**Rio Theatre Groupons and passes OK. Please redeem at the door.
PLEASE NOTE: We've made some changes.
In addition to now requiring patrons to wear masks in the lobby and restroom areas (optional to remove once seated - or while enjoying buttery popcorn!), we kindly ask everyone to arrive early to ensure enough time for seating and concession purchases. For more information on our new Health & Safety Protocols, please visit <http://riotheatre.ca/the-rios-protocols/>
If you didn't bring a mask with you, they are available for purchase at concession for $1.
All of the Rio Theatre's screenings are operating at a sharply reduced capacity. We can't guarantee availability of tickets at the door, so advance tickets for all screening events are strongly recommended. Online sales for every screening automatically end 1 hour before any given showtime.
Venue Location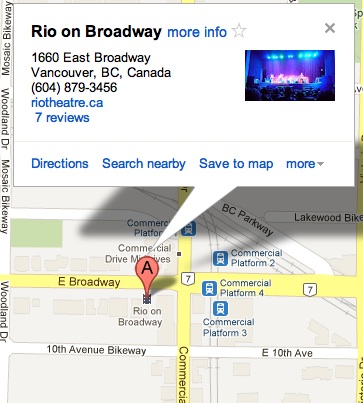 Share this event