Censor
6:05pm - Saturday, Jul 31, 2021
Film censor Enid takes pride in her meticulous work, guarding unsuspecting audiences from the deleterious effects of watching the gore-filled decapitations and eye gougings she pores over. Her sense of duty to protect is amplified by guilt over her inability to recall details of the long-ago disappearance of her sister, recently declared dead in absentia. When Enid is assigned to review a disturbing film from the archive that echoes her hazy childhood memories, she begins to unravel how this eerie work might be tied to her past.
"It's as much a movie about genre fandom as it is a genre movie, especially that find the phrase "Video Nasties" doubling as a Proustian Madeleine." (Rolling Stone Magazine)
"As an experience of mood, tone, performance and dazzlingly macabre style, it's a striking and wholly original piece, a cinematic experience that has no obligation to offer the audience pat conclusions wrapped up in a tidy bow." (LA Times)
"A clever and quietly unsettling thriller about a British film censor in the 1980s who thinks she sees her long-missing sister in a sleazy homemade horror flick." (Thrillist)
"Censor is the type of horror movie that won't satisfy people who are looking for a predictable ending, but it succeeds in immersing viewers into the psychological terror of a very disturbed mind." (Culture Mix)
Saturday, July 31
Doors 5:35 pm Movie 6:05 pm*Start time subject to change. Please arrive on time.
Advance tickets $15 | $15 at the door
CENSOR (Prano Bailey-Bond, 2021 / 84 mins / 18A) After viewing a strangely familiar video nasty, Enid, a film censor, sets out to solve the past mystery of her sister's disappearance, embarking on a quest that dissolves the line between fiction and reality.
*Minors permitted in the balcony. Must be 19+ w/ID for bar service and main floor seating.
**Rio Theatre Groupons and passes OK. Please redeem at the door.
PLEASE NOTE: We've made some changes.
In addition to now requiring patrons to wear masks in the lobby and restroom areas (optional to remove once seated - or while enjoying buttery popcorn!), we kindly ask everyone to arrive early to ensure enough time for seating and concession purchases. For more information on our new Health & Safety Protocols, please visit <http://riotheatre.ca/the-rios-protocols/>
If you didn't bring a mask with you, they are available for purchase at concession for $1.
All of the Rio Theatre's screenings are operating at a sharply reduced capacity. We can't guarantee availability of tickets at the door, so advance tickets for all screening events are strongly recommended. Online sales for every screening automatically end 1 hour before any given showtime.
Venue Location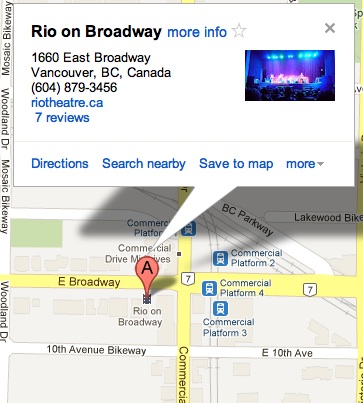 Share this event