Nomadland
3:15pm - Friday, Jul 30, 2021
Following the economic collapse of a company town in rural Nevada, Fern (Frances McDormand) packs her van and sets off on the road exploring a life outside of conventional society as a modern-day nomad. The third feature film from director Chloé Zhao (THE RIDER), NOMADLAND has won numerous accolades AND awards this year (including Oscars for Best Picture, Best Director, and McDormand's third for Best Actress), and features real-life nomads Linda May, Swankie and Bob Wells as Fern's mentors and comrades in her exploration through the vast landscape of the American West.
"A poetic character study on the forgotten and downtrodden, Nomadland beautifully captures the restlessness left in the wake of the Great Recession." (Rotten Tomatoes)
"Life on the road has never been so tenderly captured, politically alive and profoundly moving." (Empire Magazine)
"Caught somewhere between gazing longingly at the past and squaring up to the future, Nomadland feels like the only film that stands a chance of saying all the right things." (NME)
Friday, July 30
Doors 2:45 pm| Movie 3:15 pm *Start time subject to change. Please arrive on time.
Tickets $15 advance | $15 at the door
NOMADLAND (Chloé Zhao, 2020 / PG / 108 mins) A woman in her sixties, after losing everything in the Great Recession, embarks on a journey through the American West, living as a van-dwelling modern-day nomad.
*Minors permitted in the balcony. Must be 19+ w/ID for bar service and main floor seating.
**Rio Theatre Groupons and passes OK. Please redeem at the door.
PLEASE NOTE: We've made some changes.
In addition to now requiring patrons to wear masks in the lobby and restroom areas (optional to remove once seated - or while enjoying buttery popcorn!), we kindly ask everyone to arrive early to ensure enough time for seating and concession purchases. For more information on our new Health & Safety Protocols, please visit <http://riotheatre.ca/the-rios-protocols/>
If you didn't bring a mask with you, they are available for purchase at concession for $1.
All of the Rio Theatre's screenings are operating at a sharply reduced capacity. We can't guarantee availability of tickets at the door, so advance tickets for all screening events are strongly recommended. Online sales for every screening automatically end 1 hour before any given showtime.
Venue Location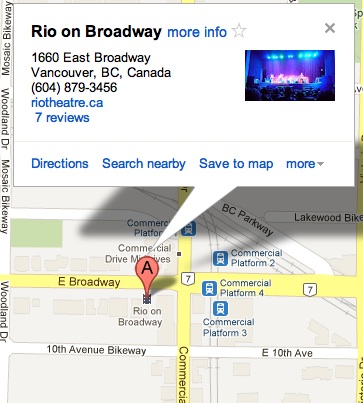 Share this event