Francis Ford Coppola Presents The Outsiders: The Complete Novel (Final Screening!)
6:30pm - Wednesday, Sep 29, 2021
Early 1960s. Tulsa, Oklahoma. The city is divided between teenagers who have grown up with wealth and privilege and the rough-edged "Greasers" from the wrong side of the tracks. The Greasers yearn for the life they see on the other side of town, but the rich kids want to keep them in their places. Then, one Greaser dares cross the line to talk, and to dream of more, with a girl from across the tracks . . . an action that can only lead to conflict on a hot, steamy night.
This limited screening event will feature the newly 4K Restored version of the film, as well as a special on-screen introduction to the film by director Francis Ford Coppola. This restoration was created using the original film negative, maintaining the highest level of visual quality as possible. It stands as director Coppola's preferred version of the film; including a beginning and ending more true to the S.E. Hinton novel on which the film is based, an additional 22 minutes of footage, as well as a rousing rock 'n' roll soundtrack.
Featuring C. Thomas Howell, Ralph Macchio, Emilio Estevez, Tom Cruise, Rob Lowe, Diane Lane and Patrick Swayze, among others.
"One of the most overtly aesthetic, art-for-art's-sake films in Hollywood's history, a faux-naf Pre-Raphaelite mural in which angels with dirty faces but immaculately pure hearts burn with a hard, gemlike flame before being snuffed out in their prime." (Sight & Sound)
"'The Outsiders' captured, as if in amber, the ongoing fight at the heart of the adolescent experience – knowing that the way things stand is wrong, but being unclear how to fix it, and frustrated with older adults for continuing on, obliviously." (Rolling Stone Magazine)
Wednesday, September 29 (Final Screening!)
Doors 6:00 pm | Movie 6:30 pm
Advance tickets $15 | $15 at the door
THE OUTSIDERS: THE COMPLETE NOVEL (Francis Ford Coppola, 1983 / PG / 127 minutes) A teen gang in rural Oklahoma, the Greasers are perpetually at odds with the Socials, a rival group. When Greasers Ponyboy and Johnny get into a brawl that ends in the death of a Social member, the boys are forced to go into hiding. Soon Ponyboy and Johnny, along with the intense Dallas and their other Greaser buddies, must contend with the consequences of their violent lives. While some Greasers try to achieve redemption, others meet tragic ends.
*Minors permitted in the balcony. Must be 19+ w/ID for bar service and main floor seating.
**Rio Theatre Groupons and passes OK. Please redeem at the door, or email <riomanagers@gmail.com> with detailed info if you'd like to redeem in advance.
PLEASE NOTE: We've made some changes.
In addition to now requiring patrons to wear masks in the lobby and restroom areas (optional to remove once seated - or while enjoying buttery popcorn!), we kindly ask everyone to arrive early to ensure enough time for seating and concession purchases. For more information on our new Health & Safety Protocols, please visit <http://riotheatre.ca/the-rios-protocols/>
If you didn't bring a mask with you, they are available for purchase at concession for $1.
All of the Rio Theatre's screenings are operating at a sharply reduced capacity. We can't guarantee availability of tickets at the door, so advance tickets for all screening events are strongly recommended. Online sales for every screening automatically end 1 hour before any given showtime.
Starting September 13, the Rio Theatre will be strictly adhering to all of BC's current Public Health Orders surrounding requisite proof of vaccination for entry to all screenings and events. No valid proof? No entry, no exceptions. Don't like it? Take it up with your MP.
Venue Location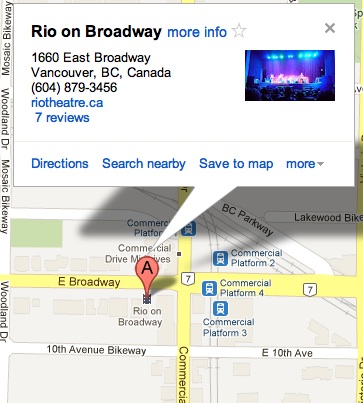 Share this event