Crazy For Swayze: The Outsiders + Road House Double Feature
6:30pm - Wednesday, Sep 29, 2021
"The dancing's over. Now it gets dirty."
Join us at the Rio Theatre on Wednesday, September 29 for another lazy, hazy, Crazy-for-Swayze kinda night, featuring two classic titles starring the inimitable Patrick Swayze: Francis Ford Coppola's gorgeously restored and extended cut of THE OUTSIDERS followed by cult-classic ROAD HOUSE.
In ROAD HOUSE, our man Swayze stars as Dalton, PhD-educated cooler (aka bouncer) hired to clean up the notorious Double Deuce - the meanest, loudest and rowdiest bar south of the Mason-Dixon Line - but runs afoul of a ruthless crime boss who controls the town. The stage is set for an action-packed showdown! Also starring Kelly Lynch.
See one, or see 'em both for one sweet price!
Wednesday, September 29
THE OUTSIDERS
Doors 6:00 pm | Movie 6:30 pm *Times subject to change. Please arrive on time.
ROAD HOUSE
Doors 9:00 pm | Movie 9:30 pm *Times subject to change. Please arrive on time.
Double Bill Tickets $20 in advance | $20 at the door
ROAD HOUSE (Rowdy Herrington, 1989 / 114 mins / 14A) | The Double Deuce is the meanest, loudest and rowdiest bar south of the Mason-Dixon Line, and Dalton has been hired to clean it up. He might not look like much, but the Ph.D.-educated bouncer proves he's more than capable -- busting the heads of troublemakers and turning the roadhouse into a jumping hot-spot. But Dalton's romance with the gorgeous Dr. Clay puts him on the bad side of cutthroat local big shot Brad Wesley.
*Minors permitted in the balcony. Must be 19+ w/ID for bar service and main floor seating.
**Rio Theatre Groupons and passes OK for any single film. Please redeem at the door, or email <riomanagers@gmail.com> with detailed info if you'd like to redeem in advance.
PLEASE NOTE: We've made some changes.
In addition to now requiring patrons to wear masks in the lobby and restroom areas (optional to remove once seated - or while enjoying buttery popcorn!), we kindly ask everyone to arrive early to ensure enough time for seating and concession purchases. For more information on our new Health & Safety Protocols, please visit <http://riotheatre.ca/the-rios-protocols/>
If you didn't bring a mask with you, they are available for purchase at concession for $1.
All of the Rio Theatre's screenings are operating at a sharply reduced capacity. We can't guarantee availability of tickets at the door, so advance tickets for all screening events are strongly recommended. Online sales for every screening automatically end 1 hour before any given showtime.
Starting September 13, the Rio Theatre will be strictly adhering to all of BC's current Public Health Orders surrounding requisite proof of vaccination for entry to all screenings and events. No valid proof? No entry, no exceptions. Don't like it? Take it up with your MP.
Venue Location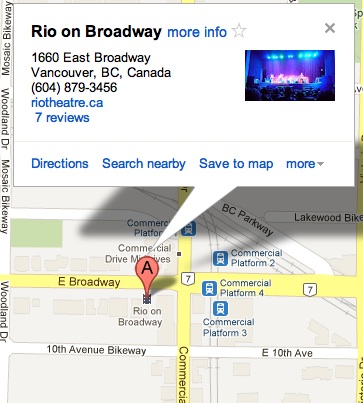 Share this event