Teton Gravity Research (TGR) Presents: Mountain Revelations
6:00pm - Thursday, Nov 4, 2021
Teton Gravity Research's (TGR) new snowboard film MOUNTAIN REVELATIONS follows three professional snowboarders – Jeremy Jones, Ryan Hudson, and Rafael Pease - on a human-powered 10-day mission in a remote corner of the Chugach Mountain Range in Alaska. As they explore epic lines on the steep and unforgiving terrain, the physical and emotional challenges they overcome during the harsh, endless days of the waning Alaskan winter serve as a catalyst to examine the roles their backgrounds had on their respective paths to this expedition.
Thursday, November 4
Early Show
Doors 5:30 pm | Show 6:00 pm *Start time subject to change. Please arrive on time.
Advance tickets $20 | $20 at the door
Their stories could not be more different – from Ryan Hudson growing up homeless on the streets of San Diego to finding the mountains and changing his life, to Rafael's experiences growing up between Miami, Texas, and Chile and becoming a young, elite mountain explorer, to Jeremy Jones' adventures growing up on Cape Cod and evolving into the world's preeminent big mountain snowboarders. However, despite the differences in socioeconomic backgrounds, skin color, and opportunity, they each found their paths and passions in the mountains. Mountain Revelations showcase their stories while addressing the hurdles – institutional racism, lack of access to opportunity, wealth disparity, and more - that were overcome along the way.
Within these wild Alaskan Mountains, the realities and stark disparity of their respective journeys are revealed with a candidness and honest reflection that makes the mountain challenges pale in comparison to the everyday challenges that too many people continue to face every day.
*Minors permitted. Please note this film is rated 18A. Must be 19+ w/ID for bar service and main floor seating.
**Rio Theatre Groupons and passes OK. Please redeem at the door, or email <riomanagers@gmail.com> with detailed info if you'd like to redeem in advance.
PLEASE NOTE: We've made some changes.
In addition to now requiring patrons to wear masks in the lobby and restroom areas (optional to remove once seated - or while enjoying buttery popcorn!), we kindly ask everyone to arrive early to ensure enough time for seating and concession purchases. For more information on our new Health & Safety Protocols, please visit <http://riotheatre.ca/the-rios-protocols/>
If you didn't bring a mask with you, they are available for purchase at concession for $1.
All of the Rio Theatre's screenings are operating at a sharply reduced capacity. We can't guarantee availability of tickets at the door, so advance tickets for all screening events are strongly recommended. Online sales for every screening automatically end 1 hour before any given showtime.
Starting September 13, the Rio Theatre will be strictly adhering to all of BC's current Public Health Orders surrounding requisite proof of vaccination for entry to all screenings and events. No valid proof? No entry, no exceptions. Don't like it? Take it up with your MP.
Venue Location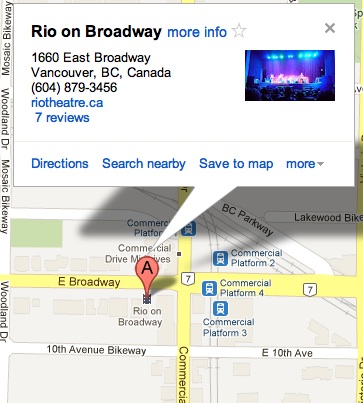 Share this event