The Hunger
7:30pm - Sunday, Oct 24, 2021
"Nothing human loves forever."
The Rio Theatre's annual deep dive into seasonal, Halloweeny fare continues a screening of Tony Scott's directorial debut, the erotically-charged goth cult-classic vampire romance THE HUNGER. Alongside the always exquisite Catherine Deneuve and Susan Sarandon, the film features David Bowie in one of his most memorably stylish roles.
John (Bowie) is the lover of the gorgeous immortal vampire Miriam (Deneuve), and he's been led to believe that he'll live forever, too. Unfortunately, he quickly deteriorates into a horrible living death, and Miriam seeks a new companion. She soon sets her sights on Sarah (Sarandon), a lovely young scientist, who quickly falls under Miriam's spell. However, Sarah doesn't warm up to the concept of vampirism easily...
Sunday, October 24
Doors 7:00 pm | Movie 7:30 pm *Start time subject to change. Please arrive on time.
Advance tickets $15 | $15 at the door
THE HUNGER (Tony Scott, 1983 / 97 mins) | Aged vampire Miriam preys on urban clubgoers with her vampire lover John. When John suddenly starts to age, Miriam casts her eyes upon Sarah, a doctor who researches premature aging.
*Minors OK in the balcony! Must be 19+ w/ ID for bar service and main floor seating.
**Rio Theatre Groupons and passes OK. Please redeem at the door, or email <riomanagers@gmail.com> with detailed info if you'd like to redeem in advance.
PLEASE NOTE: We've made some changes.
In addition to now requiring patrons to wear masks in the lobby and restroom areas (optional to remove once seated - or while enjoying buttery popcorn!), we kindly ask everyone to arrive early to ensure enough time for seating and concession purchases. For more information on our new Health & Safety Protocols, please visit <http://riotheatre.ca/the-rios-protocols/>
If you didn't bring a mask with you, they are available for purchase at concession for $1.
All of the Rio Theatre's screenings are operating at a sharply reduced capacity. We can't guarantee availability of tickets at the door, so advance tickets for all screening events are strongly recommended. Online sales for every screening automatically end 1 hour before any given showtime.
Starting September 13, the Rio Theatre will be strictly adhering to all of BC's current Public Health Orders surrounding requisite proof of vaccination for entry to all screenings and events. No valid proof? No entry, no exceptions. Don't like it? Take it up with your MP.
Venue Location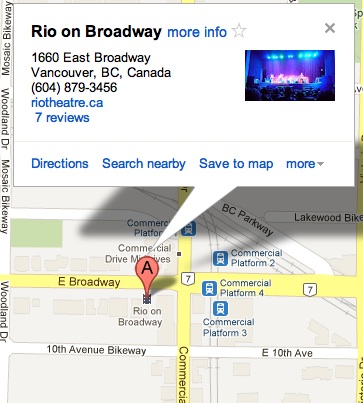 Share this event