Hocus Pocus
6:00pm - Tuesday, Oct 26, 2021
Join us at the Rio Theatre this October for one of the hands-down, most requested Halloween titles we get.... HOCUS POCUS!
After moving to Salem, Mass., teenager Max Dennison (Omri Katz) explores an abandoned house with his sister Dani (Thora Birch) and their new friend, Allison (Vinessa Shaw). After dismissing a story Allison tells as superstitious, Max accidentally frees a coven of evil witches (Bette Midler, Sarah Jessica Parker, Kathy Najimy) who used to live in the house. Now, with the help of a magical cat, the kids must steal the witches' book of spells to stop them from becoming immortal.
Audience costumes WELCOME & ENCOURAGED! (Show us what you've got, kid.)
Tuesday, October 26
Doors 5:30 pm | Movie 6:00 pm *Start time subject to change. Please arrive on time.
Advance tickets $15 | $15 at the door
HOCUS POCUS (Kenny Ortega, 1993 / 97 mins / PG) After 300 years of slumber, three sister witches are accidentally resurrected in Salem on Halloween night, and it is up to three kids and their newfound feline friend to put an end to the witches' reign of terror once and for all.
*Minors permitted in the balcony. Must be 19+ w/ ID for bar service and main floor seating.
**Rio Theatre Groupons and passes OK. Please redeem at the door, or email <riomanagers@gmail.com> with detailed info if you'd like to redeem in advance.
PLEASE NOTE: We've made some changes.
In addition to now requiring patrons to wear masks in the lobby and restroom areas (optional to remove once seated - or while enjoying buttery popcorn!), we kindly ask everyone to arrive early to ensure enough time for seating and concession purchases. For more information on our new Health & Safety Protocols, please visit <http://riotheatre.ca/the-rios-protocols/>
If you didn't bring a mask with you, they are available for purchase at concession for $1.
All of the Rio Theatre's screenings are operating at a sharply reduced capacity. We can't guarantee availability of tickets at the door, so advance tickets for all screening events are strongly recommended. Online sales for every screening automatically end 1 hour before any given showtime.
Starting September 13, the Rio Theatre will be strictly adhering to all of BC's current Public Health Orders surrounding requisite proof of vaccination for entry to all screenings and events. No valid proof? No entry, no exceptions. Don't like it? Take it up with your MP.
Venue Location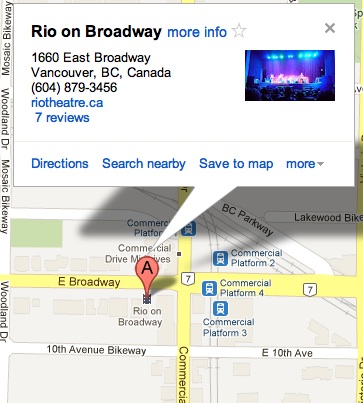 Share this event