Little Shop of Horrors
8:00pm - Monday, Oct 25, 2021
"Feed me, Seymour. Feed me all night long."
Based on Alan Menken and Howard Ashman's 1982 off-Broadway musical, director Frank Oz's Little Shop of Horrors takes its own fleshy bite out of Roger Corman's original B-movie (1960's The Little Shop of Horrors, which featured a very young Jack Nicholson) and waters it down with a solid score, a superb cast (including Ellen Green, who originated the role of Audrey on stage), and a bloodthirsty, blues-singin' plant with attitude.
Meek flower shop assistant Seymour (Rick Moranis) pines for co-worker Audrey. During a total eclipse, he discovers an unusual plant he names Audrey II, which feeds only on human flesh and blood. The growing plant attracts a great deal of business for the previously struggling store. After Seymour feeds Audrey's boyfriend, Orin (Steve Martin), to the plant after Orin's accidental death, he must come up with more bodies for the increasingly bloodthirsty plant. Also starring Bill Murray, John Candy, Tisha Campbell, and Christopher Guest.
"Remixing Roger Corman's B-movie by way of the Off-Broadway musical, Little Shop of Horrors offers camp, horror and catchy tunes in equal measure -- plus some inspired cameos by the likes of Steve Martin and Bill Murray." (Rotten Tomatoes)
#MusicMonday, October 25
Doors 7:30 pm | Movie 8:00 pm *Start time subject to change. Please arrive on time.
Advance tickets $15 | $15 at the door
LITTLE SHOP OF HORRORS (Frank Oz, 1986 / 94 mins) Seymour Krelborn is a nerdy orphan working at Mushnik's, a flower shop in urban Skid Row. He harbors a crush on fellow co-worker Audrey Fulquard, and is berated by Mr. Mushnik daily. One day as Seymour is seeking a new mysterious plant, he finds a very mysterious unidentified plant which he calls Audrey II. The plant seems to have a craving for blood and soon begins to sing for his supper.
*Minors permitted in the balcony. Must be 19+ w/ ID for bar service and main floor seating.
**Rio Theatre Groupons and passes OK. Please redeem at the door, or email <riomanagers@gmail.com> with detailed info if you'd like to redeem in advance.
PLEASE NOTE: We've made some changes.
In addition to now requiring patrons to wear masks in the lobby and restroom areas (optional to remove once seated - or while enjoying buttery popcorn!), we kindly ask everyone to arrive early to ensure enough time for seating and concession purchases. For more information on our new Health & Safety Protocols, please visit <http://riotheatre.ca/the-rios-protocols/>
If you didn't bring a mask with you, they are available for purchase at concession for $1.
All of the Rio Theatre's screenings are operating at a sharply reduced capacity. We can't guarantee availability of tickets at the door, so advance tickets for all screening events are strongly recommended. Online sales for every screening automatically end 1 hour before any given showtime.
Starting September 13, the Rio Theatre will be strictly adhering to all of BC's current Public Health Orders surrounding requisite proof of vaccination for entry to all screenings and events. No valid proof? No entry, no exceptions. Don't like it? Take it up with your MP.
Venue Location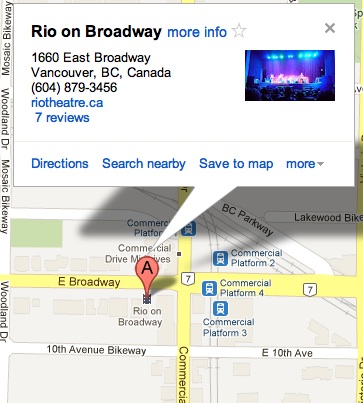 Share this event