The VVitch
8:15pm - Wednesday, Oct 27, 2021
"Wouldst thou like to live deliciously?"
There's evil in the wood.... In the exquisitely made and terrifying debut film from writer-director Robert Eggers (THE LIGHTHOUSE), the age-old concepts of witchcraft, black magic and possession are innovatively brought together to tell the intimate and riveting story of one family's frightful unraveling in the New England wilderness circa 1630. Upon threat of banishment by the church, an English farmer leaves his colonial plantation, relocating his wife and five children to a remote plot of land on the edge of an ominous forest - within which lurks an unknown evil. Strange and unsettling things begin to happen almost immediately - animals turn malevolent, crops fail, and one child disappears as another becomes seemingly possessed by an evil spirit. With suspicion and paranoia mounting, family members accuse teenage daughter Thomasin of witchcraft, charges she adamantly denies. As circumstances grow more treacherous, each family member's faith, loyalty and love become tested in shocking and unforgettable way.
THE WITCH premiered to great acclaim at the 2015 Sundance Film Festival - winning the Best Director Prize in the U.S. Narrative Competition - and painstakingly recreates a God-fearing New England decades before the 1692 Salem witch trials, in which religious convictions tragically turned to mass hysteria. Told through the eyes of the adolescent Thomasin (a star-making turn from Anya Taylor-Joy) and supported by mesmerizing camera work and a powerful musical score, THE WITCH is a chilling and groundbreaking new take on the horror genre.
"A horror flick with Puritans, possessed kids, naked forest women and a haunting goat named Black Phillip." (USA Today)
"With a gentle rap-rapping, Mr. Eggers intensifies the shivers with art-film moves, genre shocks and an excellent cast that includes a progressively rowdy menagerie. (The New York Times)
Wednesday, October 27
Doors 7:45 pm | Movie 8:15 pm *Start time subject to change. Please arrive on time.
Advance tickets $15 | $15 at the door
THE WITCH (Robert Eggers, 2016 / 93 mins / 14A) | In 1630 New England, panic and despair envelops a farmer (Ralph Ineson), his wife (Kate Dickie) and four of their children when youngest son Samuel suddenly vanishes. The family blames Thomasin (Anya Taylor-Joy), the oldest daughter who was watching the boy at the time of his disappearance. With suspicion and paranoia mounting, twin siblings Mercy (Ellie Grainger) and Jonas (Lucas Dawson) suspect Thomasin of witchcraft, testing the clan's faith, loyalty and love to one another.
*Minors permitted in the balcony. Must be 19+ w/ ID for bar service and main floor seating.
**Rio Theatre Groupons and passes OK. Please redeem at the door, or email <riomanagers@gmail.com> with detailed info if you'd like to redeem in advance.
PLEASE NOTE: We've made some changes.
In addition to now requiring patrons to wear masks in the lobby and restroom areas (optional to remove once seated - or while enjoying buttery popcorn!), we kindly ask everyone to arrive early to ensure enough time for seating and concession purchases. For more information on our new Health & Safety Protocols, please visit <http://riotheatre.ca/the-rios-protocols/>
If you didn't bring a mask with you, they are available for purchase at concession for $1.
All of the Rio Theatre's screenings are operating at a sharply reduced capacity. We can't guarantee availability of tickets at the door, so advance tickets for all screening events are strongly recommended. Online sales for every screening automatically end 1 hour before any given showtime.
Starting September 13, the Rio Theatre will be strictly adhering to all of BC's current Public Health Orders surrounding requisite proof of vaccination for entry to all screenings and events. No valid proof? No entry, no exceptions. Don't like it? Take it up with your MP.
Venue Location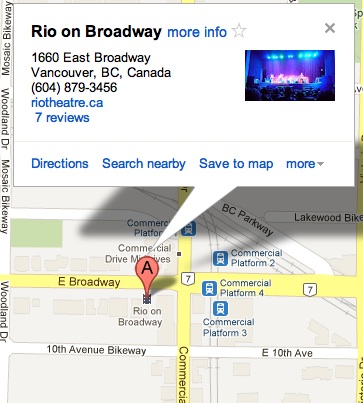 Share this event