The Conjuring
10:20pm - Wednesday, Oct 27, 2021
The Rio Theatre's seasonal selection of creepy, Halloween-y picks this October includes Aussie director James Wan's (SAW, INSIDIOUS, MALIGNANT) 2013 haunted house hit THE CONJURING.
Set in 1970, the film follows paranormal investigators and demonologists Lorraine (Vera Farmiga) and Ed (Patrick Wilson) Warren, who are summoned to the home of Carolyn (Lili Taylor) and Roger (Ron Livingston) Perron. The Perrons and their five daughters have recently moved into a secluded farmhouse, where a supernatural presence has made itself known. Though the manifestations are relatively benign at first, events soon escalate in horrifying fashion, especially after the Warrens discover the house's macabre history.
"Well-crafted and gleefully creepy, 'The Conjuring' ratchets up dread through a series of effective old-school scares." (Rotten Tomatoes)
Wednesday, October 27
Doors 10:00 pm Movie 10:20 pm *Start time subject to change. Please arrive on time.
Advance tickets $15 | $15 at the door
THE CONJURING (James Wan, 2013 / 112 mins / 14A) Paranormal investigators Ed and Lorraine Warren work to help a family terrorized by a dark presence in their farmhouse. Forced to confront a powerful entity, the Warrens find themselves caught in the most terrifying case of their lives.
*Minors permitted in the balcony. Must be 19+ w/ ID for bar service and main floor seating.
**Rio Theatre Groupons and passes OK. Please redeem at the door, or email <riomanagers@gmail.com> with detailed info if you'd like to redeem in advance.
PLEASE NOTE: We've made some changes.
In addition to now requiring patrons to wear masks in the lobby and restroom areas (optional to remove once seated - or while enjoying buttery popcorn!), we kindly ask everyone to arrive early to ensure enough time for seating and concession purchases. For more information on our new Health & Safety Protocols, please visit <http://riotheatre.ca/the-rios-protocols/>
If you didn't bring a mask with you, they are available for purchase at concession for $1.
All of the Rio Theatre's screenings are operating at a sharply reduced capacity. We can't guarantee availability of tickets at the door, so advance tickets for all screening events are strongly recommended. Online sales for every screening automatically end 1 hour before any given showtime.
Starting September 13, the Rio Theatre will be strictly adhering to all of BC's current Public Health Orders surrounding requisite proof of vaccination for entry to all screenings and events. No valid proof? No entry, no exceptions. Don't like it? Take it up with your MP.
Venue Location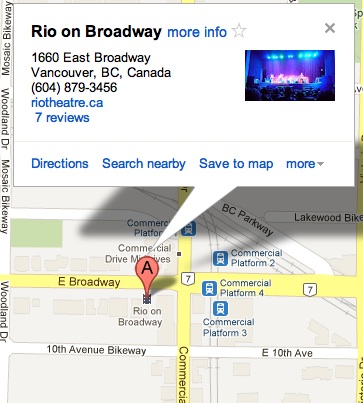 Share this event