Beetlejuice
6:00pm - Wednesday, Oct 27, 2021
"It's showtime."
Yes, it's happening! We're officially in Halloween mode and featuring old-skool classics including Tim Burton's BEETLEJUICE, which is getting prime-time treatment on our screen this October.
After Barbara (Geena Davis) and Adam Maitland (Alec Baldwin) die in a car accident, they find themselves stuck haunting their country residence, unable to leave the house. When the unbearable Deetzes (Catherine O'Hara, Jeffrey Jones) and teen daughter Lydia (Winona Ryder) buy the home, the Maitlands attempt to scare them away without success. Their efforts attract Beetlejuice (Michael Keaton), a rambunctious spirit whose "help" quickly becomes dangerous for the Maitlands and innocent Lydia.
"Brilliantly bizarre and overflowing with ideas, BEETLEJUICE offers some of Michael Keaton's most deliciously manic work – and creepy, funny fun for the whole family." (Rotten Tomatoes)
"Tim Burton's imagination jumped into the saddle and held onto the bridle with BEETLEJUICE." (Slant Magazine)
"The joy of BEETLEJUICE is its completely bizarre — but perfectly realized — view of the world." (Washington Post)
Wednesday, October 27
Doors 5:30 pm | Movie 6:00 pm *Start time subject to change. Please arrive on time.
Advance tickets $15 | 15 at the door
BEETLEJUICE (Tim Burton, 1988 / 92 mins / PG) | Thanks to an untimely demise via drowning, a young couple (Geena Davis, Alec Baldwin) end up as poltergeists in their New England farmhouse, where they fail to meet the challenge of scaring away the insufferable new owners and their moody daughter. In desperation, the undead newlyweds turn to an expert frightmeister, but he's got a diabolical agenda of his own.
*Minors permitted in the balcony. Must be 19+ w/ID for bar service and main floor seating.
*In accordance with the Province of British Columbia's current PHO from the Ministry of Health, all eligible patrons must present their proof of vaccine status for entry. No exceptions.
*Rio Theatre Groupons and passes OK for any single film screening only. Please redeem at the box office.
*If you are looking to redeem your tickets to either a canceled Rio Theatre screening or a Rio Theatre gift certificate, please email <riomanagers@gmail.com> with info including your name, canceled receipt number, gift certificate info, what you are wanting to see and when, and we can make the switch for you in advance. Alternately, you can bring this information with you to the venue, and we will do our best to help you at the box office.
PLEASE NOTE: We've made some changes.
In addition to now requiring patrons to wear masks in the lobby and restroom areas (optional to remove once seated - or while enjoying buttery popcorn!), we kindly ask everyone to arrive early to ensure enough time for seating and concession purchases. For more information on our new Health & Safety Protocols, please visit <http://riotheatre.ca/the-rios-protocols/>
If you didn't bring a mask with you, they are available for purchase at concession for $1.
All of the Rio Theatre's screenings are operating at a sharply reduced capacity. We can't guarantee availability of tickets at the door, so advance tickets for all screening events are strongly recommended. Online sales for every screening automatically end 1 hour before any given showtime.
Venue Location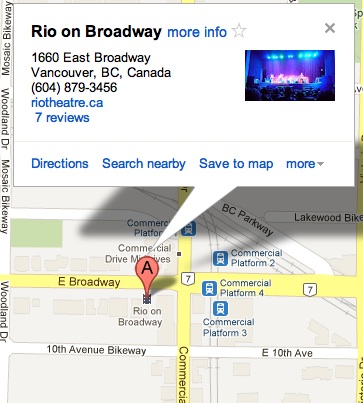 Share this event