The Bride Of Frankenstein
6:00pm - Monday, Oct 25, 2021
The Rio Theatre's seasonal deep dive into Halloween-y favourites continues on Monday, October 25 with one of the all-time great monster movies, James Whale's iconic THE BRIDE OF FRANKENSTEIN. This 1935 sequel to Whale's 1931 film FRANKENSTEIN retained the legendary Boris Karloff as the eponymous, mortally challenged creation.
After recovering from injuries sustained in the mob attack upon himself and his creation, Dr. Frankenstein (Colin Clive) falls under the control of his former mentor, Dr. Pretorius (Ernest Thesiger), who insists the now-chastened doctor resume his experiments in creating new life. Meanwhile, the Monster (Karloff) remains on the run from those who wish to destroy him without understanding that his intentions are generally good despite his lack of socialization and self-control. With Elsa Lanchester, Valerie Hobson.
"James Whale's erudite genius brings it all together. He sculpts every nuance of self-parody, social satire, horror, humour, wit and whimsy into a dazzling whole, keeping every one of his fantastical plates spinning until the tragic, inevitable finale." (Empire Magazine)
"Another astonishing chapter in the career of the Monster." (New York Times)
Monday, October 25
Doors 5:30 pm | Movie 6:00 pm *Start time subject to change. Please arrive on time.
Advance tickets $15 | $15 at the door
THE BRIDE OF FRANKENSTEIN (James Whale, 1935 / 75 mins / PG) THE BRIDE OF FRANKENSTEIN begins where James Whale's FRANKENSTEIN (1931) ended. Dr. Frankenstein has not been killed as previously portrayed and now he wants to get away from the mad experiments. Yet when his wife is kidnapped by his creation, Frankenstein agrees to help him create a new monster, this time a woman.
*Minors permitted in the balcony. Must be 19+ w/ID for bar service and main floor seating.
*In accordance with the Province of British Columbia's current PHO from the Ministry of Health, all eligible patrons must present their proof of vaccine status for entry. No exceptions.
*Rio Theatre Groupons and passes OK for any single film screening only. If you are looking to redeem your tickets to either a canceled Rio Theatre screening or a Rio Theatre gift certificate, please email <riomanagers@gmail.com> with info including your name, canceled receipt number, gift certificate info, what you are wanting to see and when, and we can make the switch for you in advance. Alternately, you can bring this information with you to the venue, and we will do our best to help you at the box office.
PLEASE NOTE: We've made some changes.
In addition to now requiring patrons to wear masks in the lobby and restroom areas (optional to remove once seated - or while enjoying buttery popcorn!), we kindly ask everyone to arrive early to ensure enough time for seating and concession purchases. For more information on our new Health & Safety Protocols, please visit <http://riotheatre.ca/the-rios-protocols/>
If you didn't bring a mask with you, they are available for purchase at concession for $1.
All of the Rio Theatre's screenings are operating at a sharply reduced capacity. We can't guarantee availability of tickets at the door, so advance tickets for all screening events are strongly recommended. Online sales for every screening automatically end 1 hour before any given showtime.
Venue Location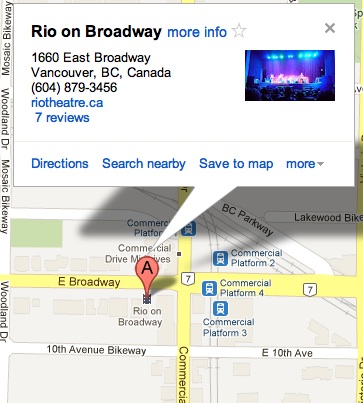 Share this event