Faction Skis Presents: Roots
5:30pm - Wednesday, Nov 17, 2021
Faction Ski's third feature film uncovers the foundations of free-skiing as seen by the current generation of skiers.
From the caves of the Dolomites to the nightscapes of Ruka and the mythic peaks surrounding Verbier, ROOTS takes us on a journey through the vibrant spectrum of freeskiing.
In co-production with Red Bull Media House.
Wednesday, November 17 Early Show
Doors 5:00 pm | Event 5:30 pm *Please arrive on time.
Advance tickets $17 | $17 at the door
*Minors permitted in the balcony. Must be 19+ w/ID for main floor seating. Sorry, Rio Theatre Groupons and passes n/a for this event.
Skiers
Alex Hall, Alexis Ghisleni, Antti Ollila, Astrid Cheylus, Bella Bacon, Ben Buratti, BlakeWilson, Cody Cirillo, Daniel Hanka, Duncan Adams, Elisabeth Gerritzen, Kadi Gomis, Mac Forehand, Margaux Hackett, Markus Fohr, Matěj Švancer, Mathilde Gremaud, Micah Evangelista, Sam Anthamatten, Sandra Eie, Sarah Hoefflin, Simon Charrière, Sophia Rouches, Tim McChesney, Tim Sivignon & Yann Rausis
Locations
Crans Montana, Corvatsch, Dolomites, Mt Baker, Ruka, Verbier, Wyoming
Sponsors
Red Bull Media House, Julbo Eyewear, GoPro, CAST Touring
*Minors permitted in the balcony. Must be 19+ w/ ID for bar service and main floor seating.
**Rio Theatre Groupons and passes OK. Please redeem at the door, or email <riomanagers@gmail.com> with detailed info if you'd like to redeem in advance.
PLEASE NOTE: We've made some changes.
In addition to now requiring patrons to wear masks in the lobby and restroom areas (optional to remove once seated - or while enjoying buttery popcorn!), we kindly ask everyone to arrive early to ensure enough time for seating and concession purchases. For more information on our new Health & Safety Protocols, please visit <http://riotheatre.ca/the-rios-protocols/>
If you didn't bring a mask with you, they are available for purchase at concession for $1.
All of the Rio Theatre's screenings are operating at a sharply reduced capacity. We can't guarantee availability of tickets at the door, so advance tickets for all screening events are strongly recommended. Online sales for every screening automatically end 1 hour before any given showtime.
Starting September 13, the Rio Theatre will be strictly adhering to all of BC's current Public Health Orders surrounding requisite proof of vaccination for entry to all screenings and events. No valid proof? No entry, no exceptions. Don't like it? Take it up with your MP.
Venue Location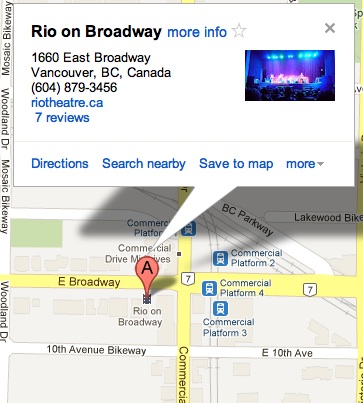 Share this event