Kurt Vonnegut: Unstuck in Time
6:00pm - Friday, Dec 3, 2021
KURT VONNEGUT: UNSTUCK IN TIME is a dazzling, worthy tribute to Vonnegut and a compelling introduction for the uninitiated. The feature documentary -- the first of its kind on Vonnegut -- is a deep, immersive dive into the author's upbringing and his creative output. It spans his childhood in Indianapolis, his experience as a Prisoner of War in World War II, his marriage, family, and divorce, his early careers as a publicist for General Electric and a car salesman, and his long years as a struggling writer, leading to eventual superstardom in 1969 following the publication of his lightning-bolt anti-war novel "Slaughterhouse-Five."
The film began 39 years ago when young, struggling filmmaker Robert Weide (Curb Your Enthusiasm, Lenny Bruce: Swear to Tell the Truth) wrote a letter to his literary idol proposing a documentary on Vonnegut's life and work. Shooting began in 1988 and the resulting film reflects the friendship and bond Weide and Vonnegut formed over the decades. In the film, past, present, and future cease to become linear as Weide strives to get an overview of his subject's life and his own role in it.
KURT VONNEGUT: UNSTUCK IN TIME is first and foremost a biography of a beloved American author. But it also documents a filmmaker's odyssey as he examines the impact of a writer's legacy on his own life, extending far beyond the printed page.
"A gorgeously rendered, unexpectedly moving appraisal of the life and craft of one of the best-loved literary voices of the late 20th century." (LA Times)
"It's an opportunity to bask in Vonnegut's wit and intelligence - to admire the crackerjack delivery of his jokes, savor the offbeat perfection of his prose, drink in the playfulness of his smile." (Hollywood Reporter)
Friday, December 3
Doors 5:30 pm | Movie 6:00 pm *Please arrive on time. Start time subject to change.
Advance tickets $15 | $15 at the door
KURT VONNEGUT: UNSTUCK IN TIME (Robert Weide, 2021 / 127 mins / PG) A documentary 33 years in the making, director and friend of Kurt Vonnegut seeks through his archives to create the first film featuring the revolutionary late writer.
*Minors permitted in the balcony. Must be 19+ w/ ID for bar service and main floor seating.
**Rio Theatre Groupons and passes OK. Please redeem at the door, or email <riomanagers@gmail.com> with detailed info if you'd like to redeem in advance.
PLEASE NOTE: We've made some changes.
In addition to now requiring patrons to wear masks in the lobby and restroom areas (optional to remove once seated - or while enjoying buttery popcorn!), we kindly ask everyone to arrive early to ensure enough time for seating and concession purchases. For more information on our new Health & Safety Protocols, please visit <http://riotheatre.ca/the-rios-protocols/>
If you didn't bring a mask with you, they are available for purchase at concession for $1.
We can't guarantee availability of tickets at the door, so advance tickets for all screening events are strongly recommended. Online sales for every screening automatically end 1 hour before any given showtime.
The Rio Theatre strictly adheres to all of BC's current Public Health Orders surrounding requisite proof of vaccination for entry to all screenings and events. No valid proof? No entry, no exceptions. Don't like it? Take it up with your MP.
Venue Location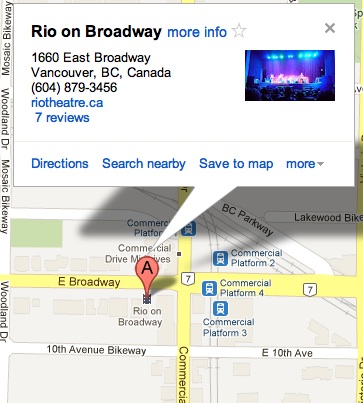 Share this event