Paul Anthony's Talent Time: Christmas Special
8:00pm - Thursday, Dec 2, 2021
Paul Anthony's Talent Time returns to the Rio Theatre on Thursday, December 2, for a yearly tradition of song, dance, comedy, gifts, weirdness with an over-all feeling of joy to the world!
Thursday, December 2
Doors 7:15 pm | Show 8:00 pm *Please arrive on time.
Advance tickets $17 | $20 at the door
Featuring...
COMEDIAN JACOB SAMUEL!
Jacob is most noted for his comedy album Horse Power, which won the Juno Award in 2021. He is also a cartoonist, whose work has appeared in various magazines including The New Yorker. Happy to have him back!
FREE WARM SOCKS!!
We have obtained a large slingshot and will be firing out pre-warmed socks to people wishing to increase their comfort while enjoying the show. (Yes, for real)
INDOOR KITE CHAMPION: TRISTAN UNDERWOOD!
He flies kites inside without wind, I guess? And it's going to be a Christmas act? Apparently so!
SANTA CLAUS CLAPPING CHOIR!
It's the "greatest hits" album release for this unique seasonal ensemble. Plus the infomercial premiere for CLAPS THAT SLAP that will also be available on cassette at our souvenir shop
COMEDIAN NIMA GHOLAMIPOUR!
Nima is an Iranian-Canadian multidisciplinary artist, filmmaker, writer and performer based in Vancouver BC. Since obtaining his Animation Diploma from Capilano University in 2012, he has become a stand-out performer at the China Cloud's Hero Show.
5 MORE GUESTS TBA. We are currently talking with a Nutcracker Ballet, Hanukkah dance troop; Harpist, professional, carolers, competitive vapists etc.
With..
● CO-HOST RYAN BEIL!
● SECRET SANTA!
● INDOOR PINE-SCENTED SNOW MACHINE!
● HOUSE BAND!
● PRE-SHOW PHOTOS WITH SANTA!
● RE-GIFTING STATION?
● CRAFT FAIR?
● SUPRISES!
● More?
"There's no funner night out than the monthly Talent Time." (The Georgia Straight)
"Talent Time is the most innovative, raucus, totally silly and inspired show I have seen in years. Watching it is like freebasing sheer fun!" (Matthew Hays, Globe & Mail/CBC Arts Online)
*Minors permitted. (Language warning.) Must be 19+ w/ID for bar service.
*Sorry, Rio Theatre Groupons and passes n/a for this event.
Advance tickets are recommended for all shows to ensure seating. Online sales for this event automatically end two hours before showtime.
In accordance with the Province of British Columbia's current PHO from the Ministry of Health, all eligible patrons must present their proof of vaccine status for entry. No exceptions.
PLEASE NOTE: We've made some changes.
In addition to now requiring patrons to wear masks in the lobby and restroom areas (optional to remove once seated - or while enjoying buttery popcorn!), we kindly ask everyone to arrive early to ensure enough time for seating and concession purchases. For more information on our new Health & Safety Protocols, please visit <http://riotheatre.ca/the-rios-protocols/>
If you didn't bring a mask with you, they are available for purchase at concession for $1.
We can't guarantee availability of tickets at the door, so advance tickets for all events are strongly recommended. Online sales for every screening automatically end 1 hour before any given showtime.
Venue Location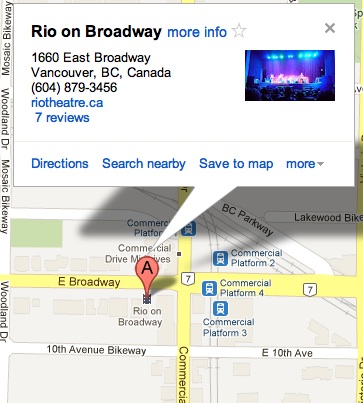 Share this event