Pokemon-A-Go-Go: The Geekenders Burlesque Movie
10:00pm - Saturday, Dec 11, 2021
GEEKENDERS FANS, WE CHOOSE YOU!
From the brilliant mind of The Galaxy Queen of Dreams comes a full-length burlesque movie, featuring your favourite (and socially distanced) Geekendersperformers.
There's nothing like watching a movie at the Rio Theatre, munching on popcorn and cheering at the big screen. So join us December 11 at the Rio Theatre once again for trivia, costume contests, and a silly and sexy burlesque movie with the Pokemon you love.
Hosted by Drag Team Rocket, it's a movie screening you just won't want to miss! Geekenders 2022 Pokemon Pin-Up Calendars will also be available at the merch booth.
Saturday, December 11
Doors 9:30 pm | Event 10:00 pm *Start time subject to change. Please arrive on time.
Advance tickets $17 | $17 at the door
Featuring: Kitty Glitter, Sasja Smolders, Sebastian Smolders, Genesis, Audrey Three, Catfish, Roxy Reverie, Poutina Turner, Glitter Minj, Rainbowglitz, Carl Leathers, Forrest Rump, Galaxy Queen of Dreams, Androsia Wilde, Curly Bright, Fae Mess, JoJo Balestra, Jayne Fondue, Vamp, Bag Daddy, La Dame Derriere, Manda Stroyer, & Curt Da Silva!
GOTTA STRIP 'EM ALL!
Promo photos Chelsey Stuyt Photography / Luminate Brilliance Photography
* Must be 19+ w/ID for entry and bar service.
**Rio Theatre Groupons and passes n/a for this event.
PLEASE NOTE: We've made some changes.
In addition to now requiring patrons to wear masks in the lobby and restroom areas (optional to remove once seated - or while enjoying buttery popcorn!), we kindly ask everyone to arrive early to ensure enough time for seating and concession purchases. For more information on our new Health & Safety Protocols, please visit <http://riotheatre.ca/the-rios-protocols/>
If you didn't bring a mask with you, they are available for purchase at concession for $1.
We can't guarantee availability of tickets at the door, so advance tickets for all screening events are strongly recommended. Online sales for every screening automatically end one hour before any given showtime.
The Rio Theatre strictly adheres to all of BC's current Public Health Orders surrounding requisite proof of vaccination for entry to all screenings and events. No valid proof? No entry, no exceptions. Don't like it? Take it up with your MP.
Venue Location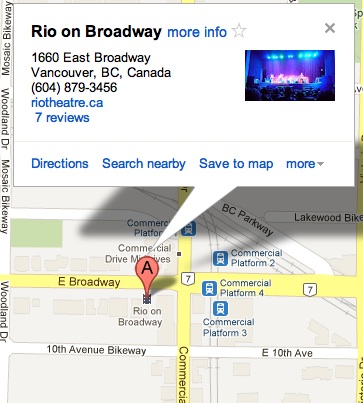 Share this event