Titane
9:00pm - Tuesday, Nov 30, 2021
Titane: A metal highly resistant to heat and corrosion, with high tensile strength alloys, often used inmedical prostheses due to its pronounced biocompatibility.
Rising French filmmaker Julia Decournau (Raw) became only the second female director to take home the prestigious Palme d'Or, the Cannes Film Festival's top award, for her visionary, provocative and dark body horror fantasy TITANE. The film stars Agathe Rousselle in her feature film debut as Alexia, a woman who, after being injured in a car accident as a child, has a titanium plate fitted into her head. With Vincent Lindon, Garince Millier, and Laïs Salamthe.
"'Titane' is a truly harrowing experience, if you're willing to let go behind the wheel." (Austin Chronicle)
"For whatever we're supposed to feel is outrageous about it, it's slickly entertaining for straightforward reasons: the pile-up of mysteries that some of us simply can't not see through to the end." (Rolling Stone Magazine)
"Despite its physical horrors, the movie is also a celebration of the body, of the bond between pleasure and pain, agony and ecstasy-and that fusion proves to hold for family bonds as well." (New Yorker)
"This year's Palme d'Or winner is a symphony of disturbing and dark madness unlike anything you've ever seen - and I mean that in a good way." (Chicago Sun-Times)
Tuesday, November 30 Final Screening
Doors 8:30 pm | Movie 9:00 pm *Please arrive on time. Start time subject to change.
Advance Tickets $15 | $15 at the door
TITANE (Julia Doucournau, 2021 / 18 A / Please Note: Graphic violence / 108 mins / English subtitles) A woman with a metal plate in her head from a childhood car accident embarks on a bizarre journey, bringing her into contact with a firefighter who's reunited with his missing son after 10 years.
*Minors permitted in the balcony. Must be 19+ w/ ID for bar service and main floor seating.
**Rio Theatre Groupons and passes OK. Please redeem at the door, or email <riomanagers@gmail.com> with detailed info if you'd like to redeem in advance.
PLEASE NOTE: We've made some changes.
In addition to now requiring patrons to wear masks in the lobby and restroom areas (optional to remove once seated - or while enjoying buttery popcorn!), we kindly ask everyone to arrive early to ensure enough time for seating and concession purchases. For more information on our new Health & Safety Protocols, please visit <http://riotheatre.ca/the-rios-protocols/>
If you didn't bring a mask with you, they are available for purchase at concession for $1.
We can't guarantee availability of tickets at the door, so advance tickets for all screening events are strongly recommended. Online sales for every screening automatically end 1 hour before any given showtime.
The Rio Theatre strictly adheres to all of BC's current Public Health Orders surrounding requisite proof of vaccination for entry to all screenings and events. No valid proof? No entry, no exceptions. Don't like it? Take it up with your MP.
Venue Location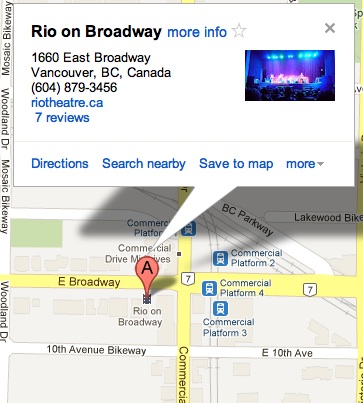 Share this event