The Howling (2021 Restoration) 40th Anniversary Screening
8:45pm - Wednesday, Dec 1, 2021
Join us at the Rio Theatre for a 40th Anniversary screening of director Joe Dante's "biting' satire on werewolf movies, THE HOWLING.
Dee Wallace (E.T.) stars as Karen White, a LA news anchor with a serial killer for a stalker, leads the man into a trap where the police are able to kill him. In order to recover from the traumatic event, she and her husband are sent to "The Colony," a country resort where their marriage is tested by the fact that there are vicious werewolves everywhere.
Originally released in 1981, THE HOWLING re-imagined one of the most durable of horror icons: the man (or woman) bitten by a wolf, and then doomed to turn into one with every full moon, wreaking havoc and murder, which the poor damned soul could not control or remember. Director Dante utilized the talents of up-and-coming makeup and effects artist Rob Bottin (THE THING, TOTAL RECALL), who, for the first time, created an onscreen transformation of man to beast without the use of cut-away edits; only latex and ligature. This was combined with a genre-imploding screenplay conjoining the new Hollywood interest in horror with the faddish West Coast self-awareness movement by filmmaker and novelist John Sayles (Matewan, Lone Star), who had previously worked with Dante on PIRANHA, along with a cast of genre stalwarts, including Wallace, Patrick Macnee (TV's 'The Avengers', THIS IS SPINAL TAP), and John Carradine, Kevin McCarthy, and Dick Miller in referential cameo roles.
THE HOWLING has been restored in 4K by Studiocanal with the VDM lab, under the supervision of director Dante, who says, "I can honestly say this 4K restoration is the best THE HOWLING has looked since it came out of the lab in 1980—maybe better. I'm happy to have it back in circulation at last."
"A witty, knowing commentary on the genre itself." (Time Out)
"Essential viewing for anyone with a serious interest in the history of the genre." (Eye For Film)
Wednesday, December 1 Encore Screening
Doors 8:15 pm | Movie 8:45 pm *Please arrive on time. Start time are subject to change.
Advance tickets $15 | $15 at the door
THE HOWLING (Joe Dante, 1981 / 91 mins / 14A) In Los Angeles, television journalist Karen White is traumatized in the course of aiding the police in their arrest of a serial murderer. Her doctor recommends that she attend an isolated psychiatric retreat led by Dr. George Waggner. But while Karen is undergoing therapy, her colleague Chris, investigates the bizarre circumstances surrounding her shock. When his work leads him to suspect the supernatural, he begins to fear for Karen's life.
*Minors permitted in the balcony. Must be 19+ w/ ID for bar service and main floor seating.
**Rio Theatre Groupons and passes OK. Please redeem at the door, or email <riomanagers@gmail.com> with detailed info if you'd like to redeem in advance.
PLEASE NOTE: We've made some changes.
In addition to now requiring patrons to wear masks in the lobby and restroom areas (optional to remove once seated - or while enjoying buttery popcorn!), we kindly ask everyone to arrive early to ensure enough time for seating and concession purchases. For more information on our new Health & Safety Protocols, please visit <http://riotheatre.ca/the-rios-protocols/>
If you didn't bring a mask with you, they are available for purchase at concession for $1.
We can't guarantee availability of tickets at the door, so advance tickets for all screening events are strongly recommended. Online sales for every screening automatically end 1 hour before any given showtime.
The Rio Theatre strictly adheres to all of BC's current Public Health Orders surrounding requisite proof of vaccination for entry to all screenings and events. No valid proof? No entry, no exceptions. Don't like it? Take it up with your MP.
Venue Location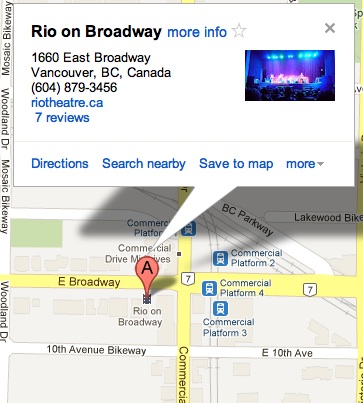 Share this event