The C.R. Avery Orchestra & Victory On East Hastings
7:30pm - Tuesday, Jan 25, 2022
After the ghostly ushers from ancient Galway have lead you to your seat and the time-machine-lights of the legendary Rio Theatre have dimmed, you'll know that you're about to witness something special going down.
From the historic Rio's lower level to the box-seat balcony, the audience will be engrossed and electrified by the cut-throat Gregorian sound of violins swelling from the live orchestra that will lead us all to a Bohemian Central evening of Success's outskirts-of-society secret recipe.
VICTORY ON EAST HASTINGS is a feature film that transcends the ordinary 'night out on the town', with C.R. Avery narrating the tale with a large orchestra backing him and performing the score live.
All bets are off good people, and cinema is about to have an affair with a rock n' roll revival show. Boom to the zoom Mo'fo's, here comes the ultimate love letter to East Van.
Tuesday, January 25
Doors 6:30 pm | Show 7:30 pm *Please arrive on time. Start time subject to change.
Advance tickets $25 | $30 at the door
Performed in two acts (50 minutes each) with a 15 minute intermission.
*Minors permitted. Must be 19+ w/ ID for bar service.
**Sorry, Rio Theatre Groupons and passes n/a for this event.
PLEASE NOTE: We've made some changes.
In addition to now requiring patrons to wear masks in the lobby and restroom areas (optional to remove once seated - or while enjoying buttery popcorn!), we kindly ask everyone to please arrive early to ensure enough time for seating and concession purchases. For more information on our new Health & Safety Protocols, please visit <http://riotheatre.ca/the-rios-protocols/>
If you didn't bring a mask with you, they are available for purchase at concession for $1.
We can't guarantee availability of tickets at the door, so advance tickets for all events are strongly recommended. Online sales automatically end two hours before any given showtime.
The Rio Theatre strictly adheres to all of BC's current Public Health Orders surrounding requisite proof of vaccination for entry to all screenings and events. No valid proof? No entry, no exceptions. Don't like it? Take it up with your MP.

Venue Location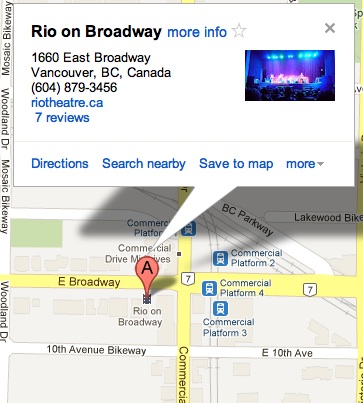 Share this event