Sue Foley: Pinky's Blues
7:30pm - Friday, Mar 11, 2022
The Rio Theatre is pleased to present blues guitar legend Sue Foley to the stage on Friday, March 11 for an intimate and electric night.
"This country's finest blues guitarist" (Globe and Mail)
"The Queen is on fire!" (The Austin Chronicle)
"Her playing and singing are of the highest order" (Exclaim)
"Sue Foley proves she's as vital a songwriter and guitar player as ever" (Guitar Player)
Sue Foley
w/ Special Guests
Friday, March 11
Doors 6:30 pm | Show 7:30 pm *Please arrive on time. Start time subject to change.
General Admission Advance Tickets $35 | $40 door
VIP Tickets (Pre-show meet and greet, CD reserved seating rows 1-2) $60
PINKY'S BLUES is named after Sue Foley's pink paisley Fender Telecaster electric guitar that has been such a major part of Foley's life for all these years. Part of that is the total devotion Sue Foley has to the guitar, and in particular to the one she calls Pinky that has been with her for decades and continues to play on this album. Foley feels it's almost a living extension of who she is and helps guide her through the rambunctiously deep renditions of everything she performs.
The open-flow feel of the great empty spaces of Texas that blows through many of the songs, no matter whether they're previous classics like Lavelle White's "Stop These Teardrops," Frankie Lee Sims' "Boogie Real Low" or Jimmy Donley's "Think It Over" or newer songs like Angela Strehli's "Two Bit Texas Town" and Foley's own "Dallas Man." Sue Foley had an overall idea for how she wanted the music to be. "We just wanted to make something representative of the Texas blues that we had been schooled on in Austin. So, we picked great songs and I wrote a few of my own to round things out. Everything on it is a labor of love."
On PINKY'S BLUES, Sue Foley's well-loved guitar is stepping up and stepping out, playing the music of the spheres and sharing a love for something so deep and so pure there are no words to truly describe it. Though Foley tries: "I've been on the road for over 30 years. You could call that paying my dues. I've made over a dozen albums of my own. I've raised a child. I've bought and sold homes. I've had great successes and great failures. And all of this just makes my life richer and more colorful. It's funny I keep coming back to the same 30 or 40 albums as my place of inspiration. I keep studying the same artists, over and over again. Freddie King, Muddy Waters, Memphis Minnie, T-Bone Walker, Howlin' Wolf, etc...etc.,... You never really get there. You're just always going. But it's a great trip and I never get tired of playing a slow blues. That's the ultimate."
Today, in 2021, Sue Foley is surely one of the ultimate. With Pinky right by her side.
*Must be 19+ w/ ID for entry..
**Sorry, Rio Theatre Groupons and passes n/a for this event.
PLEASE NOTE: We've made some changes.
In addition to now requiring patrons to wear masks in the lobby and restroom areas (optional to remove once seated - or while enjoying buttery popcorn!), we kindly ask everyone to please arrive early to ensure enough time for seating and concession purchases. For more information on our new Health & Safety Protocols, please visit <http://riotheatre.ca/the-rios-protocols/>
If you didn't bring a mask with you, they are available for purchase at concession for $1.
We can't guarantee availability of tickets at the door, so advance tickets for all events are strongly recommended. Online sales for every event automatically end two hours before any given showtime.
The Rio Theatre strictly adheres to all of BC's current Public Health Orders surrounding requisite proof of vaccination for entry to all screenings and events. No valid proof? No entry, no exceptions. Don't like it? Take it up with your MP.

Venue Location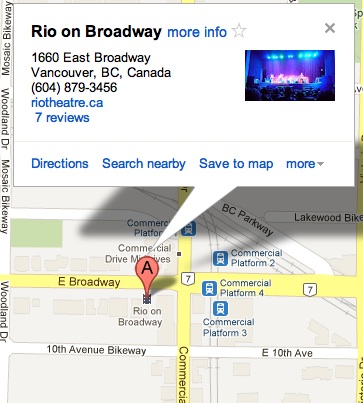 Share this event