The Geekenders Present: Kill The Ripper
8:00pm - Thursday, Jul 14, 2022
While history's most infamous killer stalks the streets of Whitechapel, a remarkable trio of women must take matters into their own hands and learn to find, fight, and destroy a murderer.
Featuring over-the-top fight sequences, acrobatics, evocative sets, and sumptuous period costumes, this production of KILL THE RIPPER is a darkly comic feast for the senses.
From Vancouver's "beloved" "cult sensation" Geekenders, and Affair of Honor (the Jessie-nominated company behind SOUL SAMURAI), comes an intimate, scintillating look at what really could have befallen the murderer named Jack.
Thursday, July 14
Doors 7:00 pm | Show 8:00 pm *Please arrive on time. Start time subject to change.
General Admission $25 | $30 at the door
VIP Reserved Seating (Rows 1-8) $35 | $40 at the door
*Minors permitted. (Mild content warning.) Sorry, Rio Theatre Groupons and passes n/a for this event.
Advance tickets are recommended to ensure seating. Online sales for every showing automatically end two hours before any given showtime.
In accordance with the Province of British Columbia's current PHO from the Ministry of Health, all eligible patrons must present their proof of vaccine status for entry. No exceptions.
CAST
Kit Price – Jackie T. Hanlin
Viola Shaw – Nathania Bernabe
Pudding – Katrina Teitz
Lots of Men – Ben Francis
MUSICIANS
Alison Jenkins
Masae Day
Shona Struthers
Christina Cuglietta
Anna Mazurik
ARTISTIC TEAM
Playwright/Director/Producer – Fairlith Harvey
Composer/Lyricist – Alison Jenkins
Assistant Director/Intimacy Consultant – Phay Moores
Producer - Julian Legere
Fight/Movement Choreographer – Jackie T. Hanlin
Fight/Movement Choreographer – Nathania Bernabe
Millinery Design - Emma Jennie Clark
Lighting Designer – Christian Ching
Set Designer/Props - Emily Dotson
Stage Manager – Shila Amin
Assistant Stage Manager/Props - Eli Moores
Dramaturg – Melanie Yeats
Show Logo – Cameron Dunster
Content Advisory: Violence, strong language, graphic references to murder and dismemberment, non-graphic references to sexual assault.
This play includes an intermission.
*Minors permitted. Must be 19+ w/ ID for bar service.
**Rio Theatre Groupons and passes n/a for this event.
PLEASE NOTE: We've made some changes.
In addition to now requiring patrons to wear masks in the lobby and restroom areas (optional to remove once seated - or while enjoying buttery popcorn!), we kindly ask everyone to please arrive early to ensure enough time for seating and concession purchases. For more information on our new Health & Safety Protocols, please visit <http://riotheatre.ca/the-rios-protocols/>
If you didn't bring a mask with you, they are available for purchase at concession for $1.
We can't guarantee availability of tickets at the door, so advance tickets for all screening events are strongly recommended. Online sales for every screening automatically end one hour before any given showtime.
The Rio Theatre strictly adheres to all of BC's current Public Health Orders surrounding requisite proof of vaccination for entry to all screenings and events. No valid proof? No entry, no exceptions. Don't like it? Take it up with your MP.

Venue Location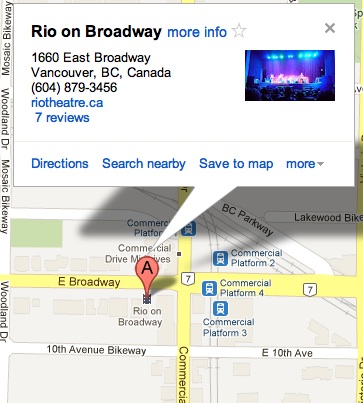 Share this event