Memoria
6:30pm - Sunday, May 29, 2022
From the extraordinary mind of Palme D'or winning director Apichatpong Weerasethakul (UNCLE BOONMEE WHO CAN RECALL HIS PAST LIVES), and starring Academy Award winner Tilda Swinton, comes a bewildering drama about a Scottish woman, who, after hearing a loud 'bang' at daybreak, begins experiencing a mysterious sensory syndrome while traversing the jungles of Colombia. With Jeanne Balibar, Elkin Diaz.
""Memoria" finally reveals itself as a vision from the future — a declaration of faith in a medium that hasn't lost its power to astonish." (LA Times)
"Designed and deserving to be seen big and loud, Memoria is a hypnotic, unquantifiable, occasionally inpenetrable sonic odyssey from a unique cinematic voice." (Empire Magazine)
""Memoria" plays out almost like a hallucination... This enigmatic film is more attuned to mood than narrative. But even if "Memoria" is perplexing, it is also incredibly provocative and quietly powerful." (Salon.com)
"Not since Todd Haynes' 'Safe' has a murkily understood, possibly psychosomatic ailment been reconceived in so haunting and unforgettable a fashion." (AV Club)
"Everything in 'Memoria' is far more calculated than you might first suspect, above all its sounds -- which are not just the subject of the film but its substance, finely textured in ways that seem intended to bypass the conscious mind." (The Age)
Sunday, May 29
Doors 6:00 pm | Movie 6:30 pm *Times subject to change. Please arrive on time.
MEMORIA (Apichatpong Weerasethakul / NR / 135 mins / In English and Spanish with English subs) A woman from Scotland, while traveling in Colombia, begins to notice strange sounds. Soon she begins to think about their appearance.
*All seating is general admission.
*Minors permitted. Must be 19+ for bar service. Rio Theatre Groupons and passes OK for any single film screening only. Please redeem at the box office.
*If you are looking to redeem your tickets to either a canceled Rio Theatre screening or a Rio Theatre gift certificate, please email <riomanagers@gmail.com> with info including your name, canceled receipt number, gift certificate info, what you are wanting to see and when, and we can make the switch for you in advance. Alternately, you can bring this information with you to the venue, and we will do our best to help you at the box office.
Venue Location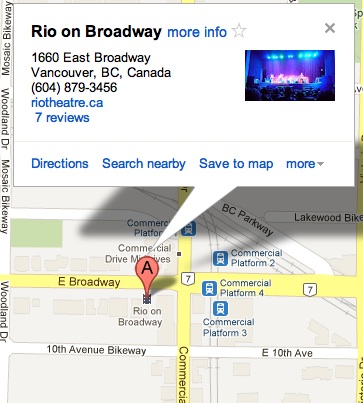 Share this event