Vortex
3:30pm - Sunday, May 29, 2022
Acclaimed filmmaker Gaspar Noé has made a name for himself with highly stylized, at times brutally assaultive films affecting a "cinema of the body" aesthetic, like IRREVERSIBLE, ENTER THE VOID, and CLIMAX. On the surface, his latest work VORTEX suggests a thematic removal - the passage of time, the inevitable struggle of aging - though, not surprisingly, it is infused with his own trademarked brand of horror. Featuring a startling performance from renowned Italian giallo maestro Dario Argento, the film follows a retired psychiatrist with dementia and a struggling author with a heart condition as they live their final days together in an apartment. With Françoise Lebrun, Alex Lutz, Kylian Dheret.
"Vortex looks unsparingly at characters at the end of life, and finds their experiences as scary as any traditional horror tale." (AV Club)
"Gaspar Noé's Vortex is perhaps the most human movie he's ever made. And yet, somehow, it's also the cruelest." (Vulture)
"Vortex is one of Gaspar Noé's best films." (Slashfilm)
"A relentlessly realistic horror story, and its primary horrors are the infirmities and indignities of old age." (New Yorker)
"It's a blunt reckoning with the inevitability of loss, including the loss of memory. We dream for a while, and then we sleep." (New York Times)
"In terms of scope, ambition and execution, it's one of the finest pictures [Noé's] made." (Guardian)
"One leaves Vortex feeling cleansed by fire." (RogerEbert.com)
Sunday, May 29
Doors 3:00 pm | Movie 3:30 pm *Start time subject to change. Please arrive on time.
*Minors permitted. Must be 19+ for bar service. Rio Theatre Groupons and passes OK for any single film screening only. Please redeem at the box office.
*If you are looking to redeem your tickets to either a canceled Rio Theatre screening or a Rio Theatre gift certificate, please email <riomanagers@gmail.com> with info including your name, canceled receipt number, gift certificate info, what you are wanting to see and when, and we can make the switch for you in advance. Alternately, you can bring this information with you to the venue, and we will do our best to help you at the box office.
VORTEX (Gaspar Noé, 2022 / 140 mins / NR / French with English subtitles) The last days of an elderly couple stricken by dementia.
*Minors permitted. Must be 19+ w/ ID for bar service. All seating is general admission.
**Rio Theatre Groupons and passes OK for any single film only. Please redeem at the door, or email <riomanagers@gmail.com> with detailed info if you'd like to redeem in advance.
Venue Location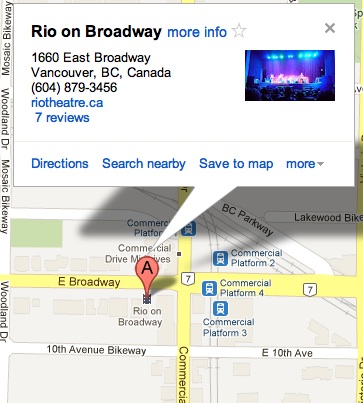 Share this event