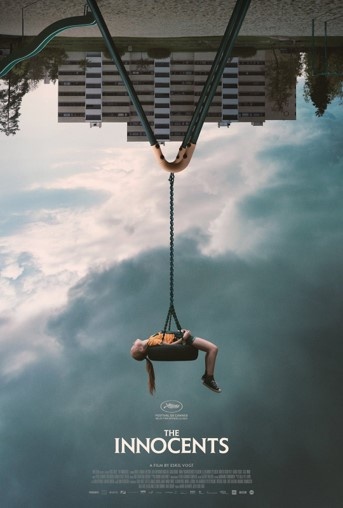 The Innocents
6:20pm - Tuesday, May 17, 2022
Acclaimed Norwegian filmmaker Eskil Volgt (who co-scripted the Oscar-nominated romantic comedy THE WORST PERSON IN THE WORLD alongside Joachim Trier) delves the depths of indie arthouse horror with his latest directorial effort, the gripping supernatural thriller THE INNOCENTS. Set against the backdrop of the bright Nordic summer, the film revolves around a group of four young children who begin to discover their mysterious powers. But what starts out as innocent playtime away from the eyes of adults, amidst the nearby forests and playgrounds, soon takes a dark and violent turn when strange things begin to happen. With Rakel Fløttum, Alva Ramstad, Ismail Ashraf, Mina Asheim and Ellen Dorrit Petersen.
"Eskil Vogt has crafted a kind of extreme fairytale on the nature of being different, shorn of tidy lessons or happy endings - which may just be beginnings anyway." (Film Of The Week)
"The lonely, uncanny and sometimes unthinkingly violent world of childhood is explored with chilling candor and exceptional skill in writer-director Eskil Vogt's arthouse horror feature The Innocents." (Hollywood Reporter)
"This superior chiller is both a satisfying genre exercise and a minute observation of the process by which young children acquire morality..." (Variety)
"The most chilling, deeply unsettling horror film so far this year, evoking psychological disturbances that will crawl around in your mind for a while after you see it... It is as artful as horror gets." (Rue Morgue Magazine)
Tuesday, May 17
Doors 5:50 pm | Movie 6:20 pm *Start time subject to change. Please arrive on time.
THE INNOCENTS "De uskyldige" (Eskil Vogt, 2021 / 117 mins / 18A / Norwegian with English subtitles) During the bright Nordic summer, a group of children reveal their dark and mysterious powers when the adults aren't looking. In this original and gripping supernatural thriller, playtime takes a dangerous turn.
Tickets no longer on sale for this event.
This event is over! Check out our events currently on sale