This Is Spinal Tap
6:45pm - Tuesday, Jul 5, 2022
Get ready to rock out (and maybe lick a love pump, or two) at the Rio Theatre with a very special screening of the iconic comedy satire THIS IS SPINAL TAP on Tuesday, July 2!
Director Rob Reiner's THIS IS SPINAL TAP pushed (or possibly created) the "mockumentary" genre with this pitch-perfect, hilarious spoof about the excesses of the rock n' roll lifestyle. Reiner (who also appeared as Archie Bunker's son-in-law on TV's ALL IN THE FAMILY) cast himself in the role of "director" Marty DiBergi, tasked with chronicling the life and times of Britain's loudest heavy metal band, Spinal Tap (co-writers Christopher Guest, Michael McKean, Harry Shearer), during their American comeback tour.
"It stays so wickedly close to the subject that it is very nearly indistinguishable from the real thing." (The New York Times)
"... all these years later, their songs remain the same, the jokes are still funny — and in terms of fake movie bands, they still go to 11." (Rolling Stone)
"The funniest film ever made." (BBC)
Presented with Backcountry Brewing in support of their new "Mine Goes to Eleven" Mango Coconut Lime Sour. Wear your best 70s / 80s glam rock ensemble for a chance to enter and win prizes!
Tuesday, July 2
Doors 6:15 pm | Movie 6:45 pm *Start time subject to change. Please arrive on time.
Advance tickets $13 | $13 at the door
THIS IS SPINAL TAP (Rob Reiner, 1984 / 82 mins / PG) Legendary British rock band Spinal Tap is followed by a documentary film-maker during their attempt at an American comeback tour. The resulting film, interspersed with powerful performances showcasing Tap's pivotal music and profound lyrics, candidly follows the group as the difficult industry threatens to fade them into obscurity.
*Minors permitted. Must be 19+ w/ ID for bar service. All seating is general admission.
**Rio Theatre Groupons and passes OK for any single film only. Please redeem at the door, or email <riomanagers@gmail.com> with detailed info if you'd like to redeem in advance.
Venue Location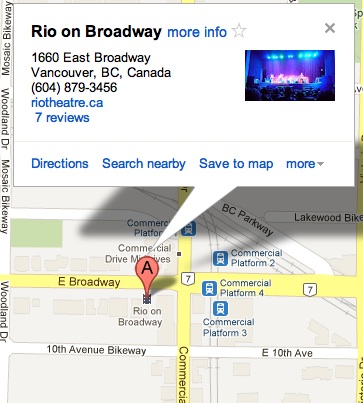 Share this event