Heavy Metal
10:45pm - Friday, Jul 1, 2022
"Earth women who experience sexual ecstasy with mechanical assistance always tend to feel guilty!"
We're celebrating Canada Day with a Friday Late Night Movie screening of one of the ultimate, hands-down best hoser animated cult-classic of ever, HEAVY METAL. This cinematic slice of 80s-era superhero sci-fi Canadiana (we're talking John Candy, Al Waxman, Eugene Levy, Joe Flaherty et all) is best appreciated on the big screen (and with our big sound!).
Based on the popular magazine of the same name, HEAVY METAL interweaves six visionary stories of science fiction and erotic fantasy with a killer soundtrack that features Black Sabbath, Blue Oyster Cult, Cheap Trick, Devo, Donald Fagen, Grand Funk Railroad, Sammy Hagar, Journey, Nazareth and Stevie Nicks.
"Regardless of its dated stylishness (which still holds up remarkably well a decade plus later), Heavy Metal was a pioneering film in 1981 and remains a pivotal and influential body of art today." (Film.com)
Friday, July 1
Doors 10:15 pm | Movie 10:45 pm*Start time subject to change Please arrive on time.
HEAVY METAL (Various, 86 mins / 1981 / 18A) A glowing green orb (the Loc-Nar - the personification of ultimate evil in the universe) terrorizes a young girl with a collection of stories of dark fantasy, eroticism and horror in this sweeping story of the battle of good against evil, told through an anthology of short animated films. Based loosely on the American magazine "Heavy Metal," and the French magazine "Métal Hurlant".
*Minors permitted. Must be 19+ w/ ID for bar service. All seating is general admission.
**Rio Theatre Groupons and passes OK for any single film only. Please redeem at the door, or email riomanagers@gmail.com with detailed info if you'd like to redeem in advance.
Venue Location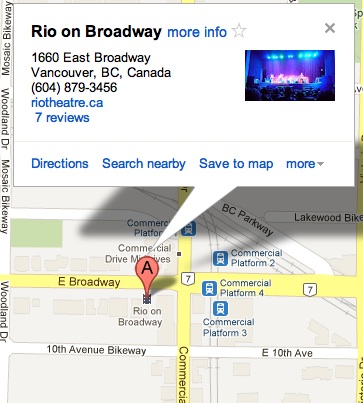 Share this event