Akira Kurosawa's Ran (4K Remaster)
6:30pm - Sunday, Jul 31, 2022
When one of the greatest filmmakers of all time adapts one of the greatest literary works of all time, the result can only be described as epic. In 1985, iconic director Akira Kurosawa adapted William Shakespeare's 'King Lear' and crafted one of - if not the - best cinematic representations of the Bard's canon with RAN. Nominated for numerous Oscars, (including Best Director for Kurosawa, who was 75 years old at the time), the film won for Best Costume Design.
In this remarkable re-imagining, olde Britain is transposed into Medieval Japan, where at the age of seventy, after years of consolidating his empire, the Great Lord Hidetora Ichimonji (Tatsuya Nakadai) decides to abdicate and divide his domain amongst his three sons. Taro (Akira Terao), the eldest, will rule. Jiro (Jinpachi Nezu), his second son, and Saburo (Daisuke Ryu) will take command of the Second and Third Castles but are expected to obey and support their elder brother. Saburo defies the pledge of obedience and is banished.
"Akira Kurosawa's sprawling, epic take on King Lear should be required viewing for fans of westerns, war movies, or period films in general." (Rotten Tomatoes)
"RAN remains gripping because it depicts not only the long-ago past, but also our hellish present." (The Village Voice)
"An irresistible attraction that should be viewed on the biggest screen you can find." (Observer)
"This is one of the year's major cinematic events. It's well worth leaving the house for, should that opportunity arise." (The AV Club)
Sunday, July 31
Doors 6:00 pm | Movie 6:30 pm *Start time subject to change. Please arrive on time.
RAN (Akira Kurosawa, 1985 / 162 mins / PG / 4K / In Japanese with English subtitles) Set in Japan in the 16th century (or so), an elderly warlord retires, handing over his empire to his three sons. However, he vastly underestimates how the new-found power will corrupt them, or cause them to turn on each other...and him...
*Minors permitted. Must be 19+ w/ ID for bar service. All seating is general admission.
**Rio Theatre Groupons and passes OK for any single film only. Please redeem at the door, or email riomanagers@gmail.com with detailed info if you'd like to redeem in advance.
Venue Location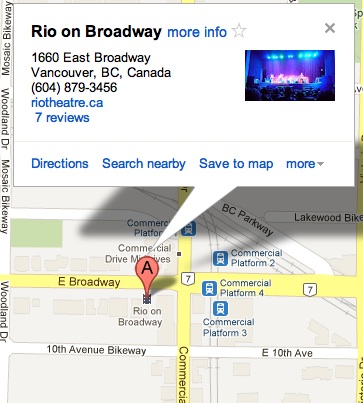 Share this event