Run N Gun 2022: After Dark (II)
8:30pm - Wednesday, Jul 6, 2022
This is the show your mother warned you about.
This Run N Gun 2022 screening boasts the biggest content disclaimer we have ever written, and we are going to see the true depravity of running a festival where "anything goes." If you thought the After Dark screening was dark… hold onto your butts. This block is full of spooky films, pitch black comedy, and sh*t you never thought you'd see at a local indie film screening. It's the block you don't want to invite your grandma to… unless she's actually pretty cool.
We know this screening pairs great with alcohol and a rowdy crowd, which is why we're heading to Zawa (located on Commercial Drive) after to celebrate all the wonderful weirdos… and probably decompress.
RUN N GUN 2022
After Dark 2: The Dark Strikes Back & Zawa After Party
July 6, 2022
Doors 8:00 pm | Show 8:30 pm *Start time subject to change. Please arrive on time.
Tickets $12
Films to be screened:
Play Your Cards Right
Two Dead? Girls
Syzygy
The Lake House
Crossroads
Redheads Dont Have Souls
Face Stealer
Last Call
MOM
La Dame Blanche
Oneirodynia
Grave
Time Capsule
Meow Meow Meow Meow
Thicker Than Blood
MOSHPIT
*Must be 19+ w/ ID for entry. All seating is general admission.
**Sorry, Rio Theatre Groupons and passes n/a for this event.
Venue Location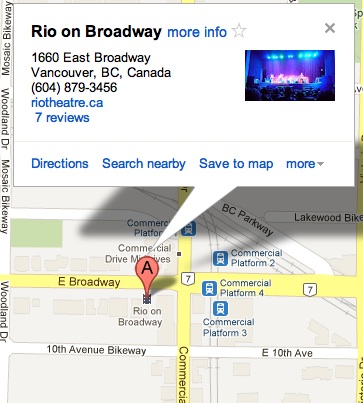 Share this event