Lawrence of Arabia (60th Anniversary Screening! 4K Remaster)
2:15pm - Sunday, Jul 3, 2022
"He was the most extraordinary man I ever knew."
The epic of all epics, British director David Lean's triumphant masterpiece Lawrence of Arabia nobly retains its status in the pantheon of cinema as one of, if not the greatest film ever made - and for good reason.
Join us at the Rio Theatre for a special 60th Anniversary screening of this gorgeously remastered classic, which certainly counts among any cinephile's bucket list of, "films to experience on the big screen." Based on the life of English archaeologist, military officer and diplomat T.E. Lawrence, this historical drama holds a firm grasp on its audience with nearly four hours of grand scope, brilliant performances, and the kind of beautiful cinematography that can only truly (and properly) be enjoyed and appreciated on a big screen. Nominated for ten Academy Awards, it won seven including Best Director, Best Sound Editing, Best Film Editing, and Best Picture.
In what is easily the most venerated performance of his brilliant career, Peter O'Toole is remarkable as the enigmatic British Army lieutenant whose exploits carry him through service in the Arabian Peninsula during World War 1 to guerilla warfare, Turkish combat, and later involvement in the formation of the Arab National Council, pitting his increasing emotional conflict relative to his own conscience and allegiances vs. those of "duty" and "country." The film also features standout performances from Sir Alec Guinness, Anthony Quinn, Omar Sharif, and José Ferrer.
"It is O'Toole who continually dominates the screen, and he dominates it with professional skill, Irish charm and smashing good looks." (Time Magazine)
Sunday, July 2
Doors 1:45 | Movie 2:15 pm *Start time subject to change. Please arrive on time.
*Please note: This movie screens with a 15 minute intermission.
Lawrence of Arabia (David Lean, 1962 / 227 mins / PG) | An epic about British officer T.E. Lawrence's mission to aid the Arab tribes in their revolt against the Ottoman Empire during the First World War. Lawrence becomes a flamboyant, messianic figure in the cause of Arab unity, but his psychological instability threatens to undermine his achievements before uniting and leading the diverse, often warring, Arab tribes against the Turks.
*Minors permitted. Must be 19+ w/ ID for bar service. All seating is general admission.
**Rio Theatre Groupons and passes OK for any single film only. Please redeem at the door, or email riomanagers@gmail.com with detailed info if you'd like to redeem in advance.
Venue Location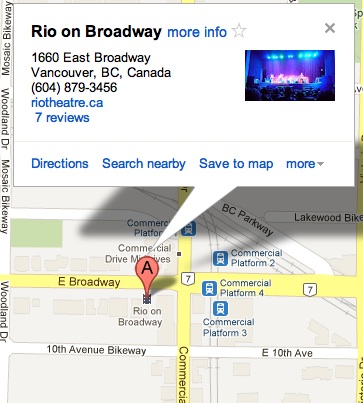 Share this event