Hallelujah: Leonard Cohen, A Journey, A Song
6:30pm - Tuesday, Aug 9, 2022
'HALLELUJAH: Leonard Cohen, A Journey, A Song' is a definitive exploration of singer songwriter Leonard Cohen as seen through the prism of his internationally renowned hymn, "Hallelujah." This feature-length documentary weaves together three creative strands: The songwriter and his times; the song's dramatic journey from record label reject to chart-topping hit; and moving testimonies from major recording artists for whom "Hallelujah" has become a personal touchstone.
Approved for production by Leonard Cohen just before his 80th birthday in 2014, the film accesses a wealth of never-before-seen archival materials from the Cohen Trust including Cohen's personal notebooks, journals and photographs, performance footage, and extremely rare audio recordings and interviews.
"'Hallelujah' isn't a definitive, life-spanning doc on Cohen's life, nor does it claim to be, but the tale of "Hallelujah" serves as a metaphor for Cohen's life." (Rolling Stone)
"Mainstream audiences... will appreciate the context and the pairing of song and subject: Hallelujah mixes sex and spirituality, as did the libidinous Buddhist." (Globe and Mail)
"A new documentary from Daniel Geller and Dayna Goldfine is ostensibly the story of that song, but it also takes in enough of the famed troubadour's life to give the whole thing just the right amount of context." (National Post)
"There is a bounteous amount of material packed into the film: fame, failure, love, loss, money, poetry, sex, suffering -- and Shrek. It's a lot. But of course, Cohen was a lot." (The Tyee)
Tuesday, August 9
Doors 6:00 pm | Movie 6:30 pm *Start time subject to change. Please arrive on time.
HALLELUJAH: LEONARD COHEN, A JOURNEY, A SONG (Daniel Geller & Dayna Goldfine, 2022 / 105 mins / G) This feature-length documentary explores the life of singer-songwriter Leonard Cohen as seen through the prism of his internationally renowned hymn, Hallelujah.
*Minors permitted. Must be 19+ w/ID for bar service. Rio Theatre Groupons and passes OK for any single film screening only. Please redeem at the box office.
*If you are looking to redeem your tickets to either a canceled Rio Theatre screening or a Rio Theatre gift certificate, please email <riomanagers@gmail.com> with info including your name, canceled receipt number, gift certificate info, what you are wanting to see and when, and we can make the switch for you in advance. Alternately, you can bring this information with you to the venue, and we will do our best to help you at the box office.
Venue Location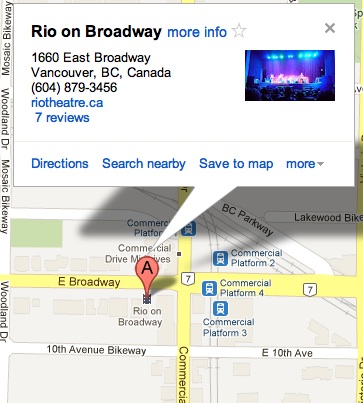 Share this event