Paul Anthony's Talent Time: Halloween Special!
8:00pm - Thursday, Oct 20, 2022
Gotta get to the show...
It's the 15th season launch of this innovative comedy / variety show! Paul Anthony's TALENT TIME starts the season with a special Halloween episode of their sitcom Recipe For Laughter. This special live teleplay follows Paul (a baker who moonlights as the host of a public access talk show), his neighbour Ryan (a wacky inventor struggling to be seen), and Aaron Read (playing an idiot cop who forced himself on as a roommate)
It's Halloween night but as usual the cop is being a huge dick. Given a devastating ultimatum by the boys, can the cop change absolutely everything about himself in one night? What if that night is the best night of the year? Regardless of the outcome, we can guarantee that it will be a Recipe For Laughter!
**Recipe contains outrageously perfect costumes, characters accidentally doing mushrooms and a talking dog
Hosted by BC Entertainment Hall of Fame Award winner Paul Anthony. Plus Ryan Beil, Aaron Read and Mark Chavez from the Canadian Comedy Award winning group The Sunday Service. Featuring a live house band led by Kristy-Lee Audette with Theremin Man Stephen Hamm. More Halloween acts to be added.
Thursday, October 20
Doors 7:15 pm | Show 8:00 pm *Start time subject to change. Please arrive on time.
Advance tickets $18 | $20 at the door
"Talent Time is the most innovative, raucus, totally silly and inspired show I have seen in years. Watching it is like freebasing sheer fun!" - Matthew Hays, Globe & Mail/CBC Arts Online
"There is no funner night out then the monthly Talent Time. A cult phenomenon that's been flying under the radar...you have to experience it to truly appreciate it." - Guy MacPherson, The Georgia Straight
*Sorry, Rio Theatre Groupons and passes n/a for this event.
*Minors welcome (mild language warning). Must be 19+ w/valid ID for bar service.
Venue Location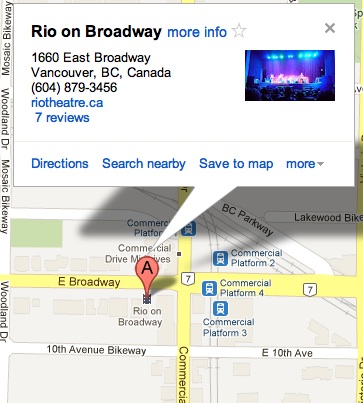 Share this event