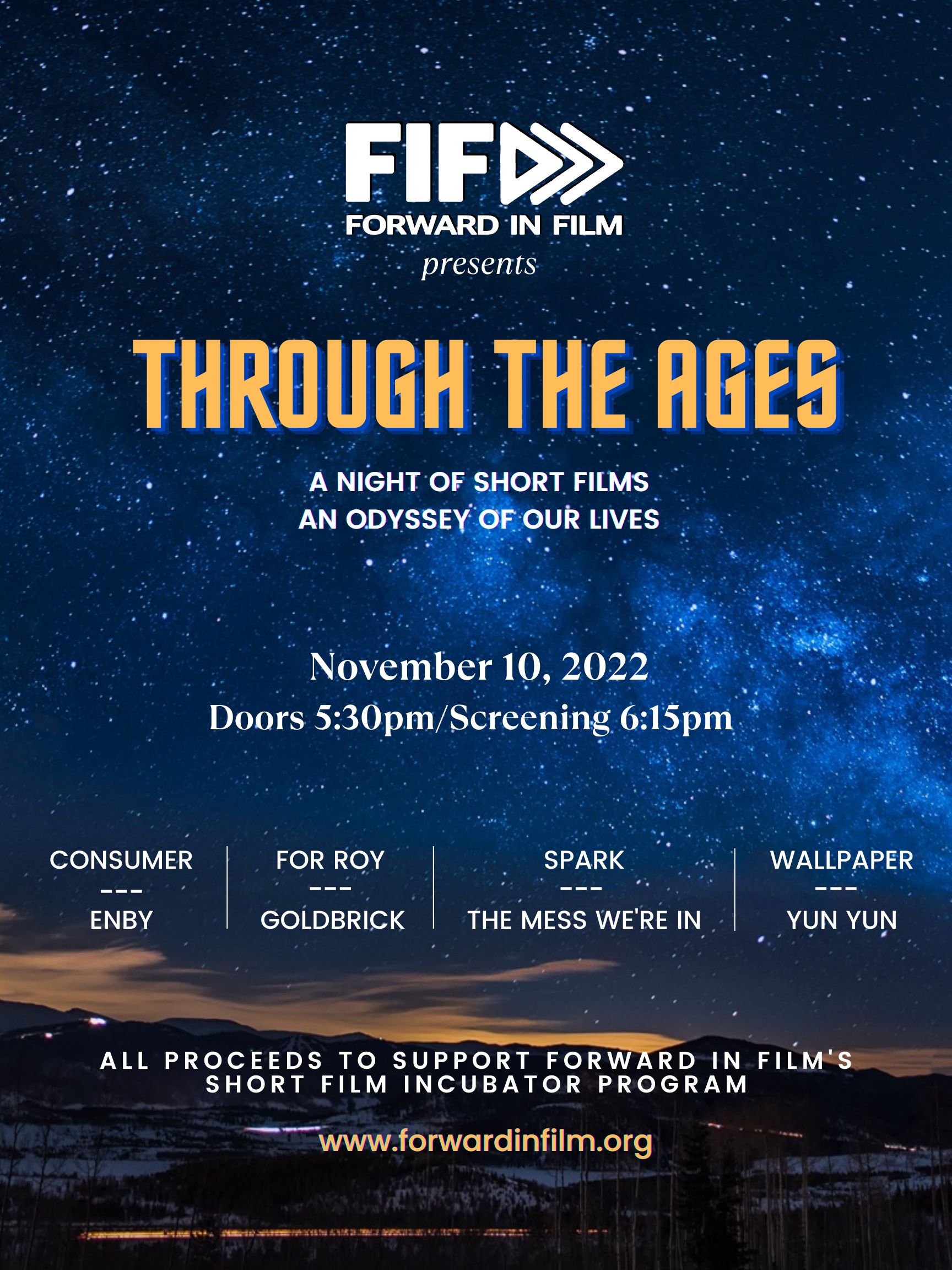 Forward in Film Through The Ages: A Night of Local Short Films
6:15pm - Thursday, Nov 10, 2022
Forward in Film
Through The Ages: A Night of Local Short Films
Forward in Film Society presents Through the Ages, a collection of short films by Vancouver based, female-identifying, and gender diverse filmmakers.
This collection examines different aspects of our culture and nature throughout the span of a lifetime. With a diverse range of
filmmakers comes a kaleidoscope of perspectives, and stories that will both take you away and pull you back into the deepest parts of yourself. This night is a celebration of our local filmmakers, and the inaugural event for Forward in Film, which is committed to fostering a spirit of curiosity and camaraderie within our community.
Forward in Film is a non-profit organization dedicated to supporting female-identifying and gender diverse emerging filmmakers in the greater Vancouver area. Their mission is to combat conscious and unconscious biases in the film industry and learn from people of all genders while building a strong community to network, learn, mentor, support, and shareideas through various programs and events.
All proceeds from the evening will support Forward in Film's Short Film Incubator Program.
Thursday, November 10
Doors 5:30 pm | Event 6:15 pm *Start time subject to change. Please arrive on time.
Advance tickets HERE
*18A for entry. Must be 19+ w/ID for bar service. Sorry, Rio Theatre Groupons and passes n/a for this event.
*All seating is General Admission. Online sales end an hour before showtime. Unless otherwise noted, tickets are also available for purchase at the door.
Consumer (Stephanie Izsak)
Tortured by toxic beauty standards, thirteen-year-old Rein discovers an unconventional and disturbing way to lose weight. She thinks she's found a fast track to perfection… but ends up biting off more than she can chew.
ENBY (Morgan Strug)
Enby, a 20-something human living in East Van has finally found the words to match their identity.
For Roy (Vivian Cheung)
Inspired by true events, an imaginative Asian-Canadian girl attempts to fold a thousand cranes as she learns to lose her father during his final days in hospice.
Goldbrick (Lucy Allan)
A fly on the wall look at a day in the life of an out-of-work freelancer, and how the monotony of the job search can turn a fear of failure into a fear of success.
Spark (Camille Hollett-French)
When a disillusioned woman is implicated in the disappearance of a lonely aging scientist, she must convince the police that hope has the power to bridge dimensions.
The Mess We're In (Jamie Lam)
Still living in the hoarder's house she grew up in, young adult Dara contemplates moving forward in life.
Wallpaper (Tanya Jade)
Dionne lets her friend crash on her couch after a night of drinking, to later find him standing over her bed.
Yun Yun (Emily Ma)
Yun Yun (欣欣) eats dinner with her family every night. When she goes to live on her own, the realization dawns on her that eating alone can be lonely.
Tickets no longer on sale for this event.
This event is over! Check out our events currently on sale