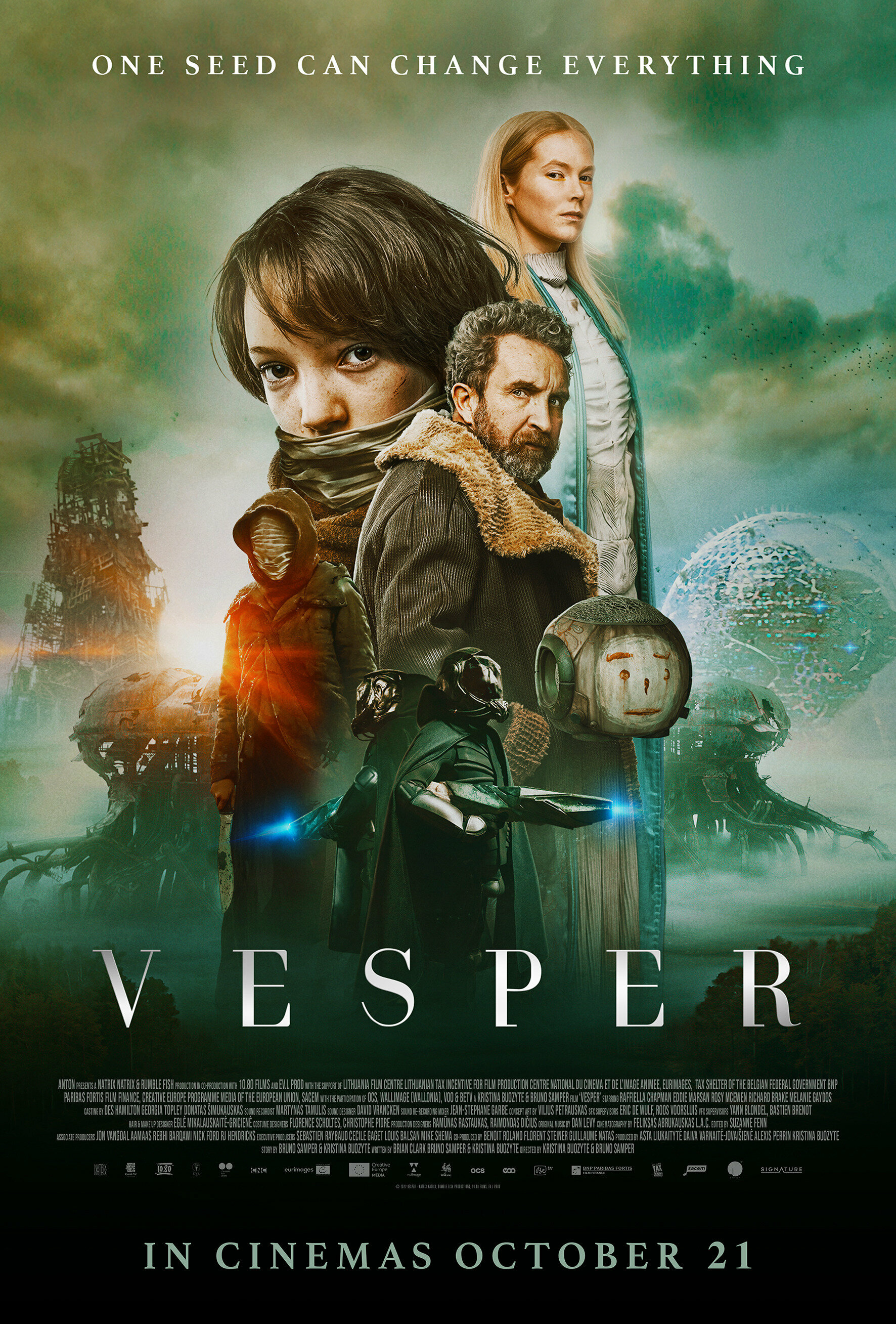 Vesper
8:00pm - Saturday, Nov 26, 2022
Screened at festivals around the world, the writer-director team of Kristina Buožytė and Bruno Samper's eco-dystopic, sci-fi coming-of-age drama VESPER is coming to the Rio's screen on Saturday, November 26. Its inclusion is a nice "full circle" moment, as Buožytė's remarkable 2012 work of romantic sci-fi, VANISHING WAVES, screened at the Rio Grind in its inaugural year. She has earned a reputation for engaging, compelling science fiction storytelling that is underpinned by sweeping visual effects, thoughtful and deliberate production and art design, and memorable cinematography - all of which is on full display in VESPER.
Set in a grim future in which Earth's ecosystem has collapsed, society has entered a "Dark Age" after humanity's attempt to prevent an ecological crisis by manipulating and interfering with genetic technology failed. Now, engineered viruses and organisms run rampant in the wild, and have wiped out edible plants and animals, and even large populations of people. Following this catastrophe, an exclusive oligarchy thrives in enclosed cities called 'citadels,' while those on the outside struggles to survive. For food, people rely on genetically modified seeds traded by the citadels which are coded to produce a single harvest. Those on the outside must find food and resources on their own. Vesper, a 13-year-old girl struggling to survive with her Father, must use her wits, strength and bio-hacking abilities to fight for a future. With Raffiella Chapman, Eddie Marsan, Rosy McEwen, Richard Brake, Melanie Gaydos.
OFFICIAL SELECTION
Karlovy Vary International Film Festival 2022
Bucheon International Fantastic Film Festival 2022 (Winner, Jury's Choice Award)
Fantastic Fest 2022
Sitges Fim Festival 2022
"If you are going to see one post-apocalyptic, low-tech French-Lithuanian-Belgian film in English this year with Eddie Marsan as the heavy, make sure it's this one." (Guardian)
"A wistful beauty and a delicately imaginative sense of craft set "Vesper" apart from most post-apocalyptic stories." (New York Times)
"'Vesper' is a sci-fi film fascinated by earthly survival, not sleek, state-of-the-art spectacle — though it often dazzles just the same." (Variety)
"An imaginatively vivid feat of post-apocalyptic world-building that flips the script on so many other stories like it." (IndieWire)
"For a small indie sci-fi movie, the special effects are stunning, and the world is incredibly well-realized." (Polygon)
"'Vesper' commands viewers' attention because of its exceptionally well-realized costume, sound, and production design, as well as some well-utilized, Cronenberg-icky creature and special effects." (RogerEbert.com)
Saturday, November 26
Doors 7:30 pm | Movie 8:00 pm *Start time subject to change. Please arrive on time.
VESPER (Kristina Buožytė, Bruno Samper 2022 / 108 mins) A girl uses her bio-hacking abilities to fight for survival.
Tickets no longer on sale for this event.
This event is over! Check out our events currently on sale