Shrek
9:30pm - Friday, Jan 27, 2023
I bet you have never seen a donkey fly!
Sometime since the release of this lovable animated satire in 2001 and now, SHREK has morphed into something of a cult-classic, a generational touchstone that make is perfect for a double bill screening with our Friday Late Night Movie SHREK 2 January 27.
See one, or see 'em both for one sweet price!
Once upon a time, in a far away swamp, there lived an ornery ogre named Shrek whose precious solitude is suddenly shattered by an invasion of annoying fairy tale characters. There are blind mice in his food, a big, bad wolf in his bed, three little homeless pigs and more, all banished from their kingdom by the evil Lord Farquaad. Determined to save their home--not to mention his own--Shrek cuts a deal with Farquaad and sets out to rescue the beautiful Princess Fiona to be Farquaad's bride. Accompanying him on his mission is wisecracking Donkey, who will do anything for Shrek... except shut up. Rescuing the Princess from a fire-breathing dragon may prove the least of their problems when the deep, dark secret she has been keeping is revealed. Featuring the voices of Mike Myers, Cameron Diaz, Eddie Murphy, Jon Lithgow, and Vincent Cassel.
"Turning the fairy-tale genre on its head was a clever, if not totally novel, notion at the time, and Shrek still retains much of its ironic charm 20 years later." (Bitch Media)
"While simultaneously embracing and subverting fairy tales, the irreverent Shrek also manages to tweak Disney's nose, provide a moral message to children, and offer viewers a funny, fast-paced ride." (Rotten Tomatoes)
Friday, January 27
Doors 9:00 pm | Movie 9:30 pm *Start time subject to change. Please arrive on time.
SHREK (Vicky Jenson, Andrew Adamson 2001 / 90 mins / PG) It ain't easy bein' green -- especially if you're a likable (albeit smelly) ogre named Shrek. On a mission to retrieve a gorgeous princess from the clutches of a fire-breathing dragon, Shrek teams up with an unlikely compatriot -- a wisecracking donkey.
*Minors permitted. Must be 19+ w/ID for bar service. Rio Theatre Groupons and passes OK for any single film screening only. Please redeem at the box office.
*Advance ticket sales end an hour before showtime; unless otherwise noted tickets are available for purchase at the door.
*If you are looking to redeem your tickets to either a canceled Rio Theatre screening or a Rio Theatre gift certificate, please email <riomanagers@gmail.com> with info including your name, canceled receipt number, gift certificate info, what you are wanting to see and when, and we can make the switch for you in advance. Alternately, you can bring this information with you to the venue, and we will do our best to help you at the box office. 
Venue Location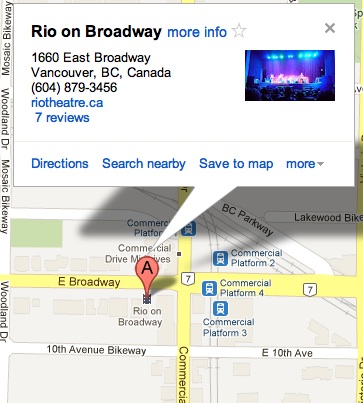 Share this event