Groundhog Day (30th Anniversary Screening)
6:30pm - Thursday, Feb 2, 2023
"I wake up every day, right here, right in Punxsutawney, and it's always February 2nd, and there's nothing I can do about it."
We got you, babe. There's no better way to mark Groundhog Day (Thursday, February 2) than with a big-screen viewing of this quirky, oddball sci-fi comedy than with a 30th Anniversary screening of it! Bill Murray, Andie MacDowell, Chris Elliott, and a very large, furry, anthropomorphic and meteorologically-aware rodent star in Harold Ramis' very, very meta cult-classic.
"Ironically, given the theme of the film, this never gets old. Winning performances, and respect for the comedic value of the script delivers laughs every time." (Empire Magazine)
"Smart, sweet, and inventive, GROUNDHOG DAY highlights Murray's dramatic gifts while still leaving plenty of room for laughs." (Rotten Tomatoes)
Thursday, February 2
Doors 6:00 pm | Movie 6:30 pm *Start time subject to change. Please arrive on time.
GROUNDHOG DAY (Harold Ramis, 1993 / 101 mins / PG) A narcissistic TV weatherman, along with his attractive-but-distant producer and mawkish cameraman, is sent to report on Groundhog Day in the small town of Punxsutawney, where he finds himself repeating the same day over and over.
*Minors permitted. Must be 19+ for bar service. Rio Theatre Groupons and passes OK for any single film screening only. Please redeem at the box office. Online sales end an hour before showtime; unless otherwise noted, tickets are aso available at the door.
*If you are looking to redeem your tickets to either a canceled Rio Theatre screening or a Rio Theatre gift certificate, please email <riomanagers@gmail.com> with info including your name, canceled receipt number, gift certificate info, what you are wanting to see and when, and we can make the switch for you in advance. Alternately, you can bring this information with you to the venue, and we will do our best to help you at the box office.
Venue Location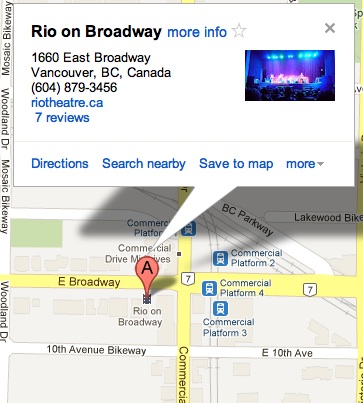 Share this event