Get Out
11:30pm - Friday, Feb 3, 2023
"A mind is a terrible thing to waste."
The Rio Theatre's weekly Friday Late Night Movie series returns in February (Black History Month)with a screening writer-director Jordan Peele's game changing, groundbreaking, and Oscar-winning work of socially satirical horror, GET OUT. The film's impact since its release in 2017 can't be missed - not only on Peele's own career (he has since gone on to truly establish himself with films including US and NOPE), but on the horror genre as a whole. In December 2022, the British Film Institute published the results of the 2002 Sight and Sound poll of the Greatest Films of All Time - and had GET OUT sitting comfortably at #95.
Now that Chris (Daniel Kaluuya) and his girlfriend, Rose (Allison Williams), have reached the meet-the-parents milestone of dating, she invites him for a weekend getaway upstate with Missy and Dean. At first, Chris reads the family's overly accommodating behavior as nervous attempts to deal with their daughter's interracial relationship, but as the weekend progresses, a series of increasingly disturbing discoveries lead him to a truth that he could have never imagined. With Catherine Keener, Bradley Whitford.
"A poster film for Black Lives Matter, Jordan Peele's horror-satire of white vampirism gleefully needles America's racial malaise." (BFI)
"Funny, scary, and thought-provoking, GET OUT seamlessly weaves its trenchant social critiques into a brilliantly effective and entertaining horror/comedy thrill ride." (Rotten Tomatoes)
"Peele succeeds where sometimes even more experienced filmmakers fail: He's made an agile entertainment whose social and cultural observations are woven so tightly into the fabric that you're laughing even as you're thinking, and vice-versa." (TIME Magazine)
"Jordan Peele's GET OUT is the satirical horror movie we've been waiting for, a mash-up of Guess Who's Coming to Dinner? and The Stepford Wives that's more fun than either and more illuminating, too." (Vulture)
Friday, February 3
Doors 11:00 pm | Movie 11:30 pm *Start time subject to change. Please arrive on time.
Late Night Date Night! Friday Late Night Movies are two-for-one entry.
GET OUT (Jordan Peele, 2017 / 104 mins / 18A) It's time for a young African American to meet with his white girlfriend's parents for a weekend in their secluded estate in the woods, but before long, the friendly and polite ambience will give way to a nightmare.
*Minors permitted. Must be 19+ for bar service. Rio Theatre Groupons and passes OK for any single film screening only. Please redeem at the box office. Online sales end an hour before showtime; unless otherwise noted, tickets are also available for purchase at the door.
*If you are looking to redeem your tickets to either a canceled Rio Theatre screening or a Rio Theatre gift certificate, please email <riomanagers@gmail.com> with info including your name, canceled receipt number, gift certificate info, what you are wanting to see and when, and we can make the switch for you in advance. Alternately, you can bring this information with you to the venue, and we will do our best to help you at the box office.
Venue Location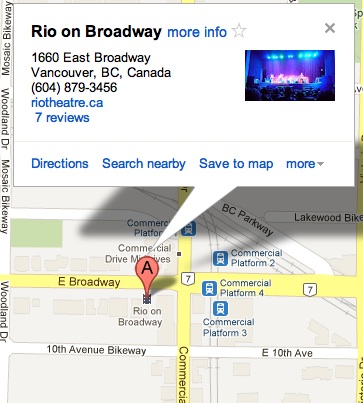 Share this event