Malcolm X
7:45pm - Wednesday, Feb 1, 2023
"We didn't land on Plymouth Rock. Plymouth Rock landed on us!"
February marks Black History Month, and the Rio Theatre is honouring that with a double bill screening on February 1, featuring two significant films in a a double bill including a 4K restoration of Senegalese director Ousmane Sembène's landmark 1966 film BLACK GIRL (aka, "La noire de...", #97 in Sight and Sound's most recent poll of The Greatest Films of All Time), paired with what many film-lovers believe to be filmmaker Spike Lee's most important film (not to mention Denzel Washington's most indelible performance), MALCOLM X.
Lee's grand, sweeping epic MALCOLM X is a tribute to the controversial black activist and leader of the struggle for black liberation. The film chronicles the iconic figure who hit bottom during his imprisonment in the '50s, became a Black Muslim and then a leader in the Nation of Islam. His assassination in 1965 left a legacy of self-determination and racial pride. With Angela Bassett, Delroy Lindo, Spike Lee, James McDaniel, Al Freeman Jr, Lonette McKee.
"This is an extraordinary life, and Spike Lee has told it in an extraordinary film." (Roger Ebert)
"Lee and company have performed a powerful service: they have brought Malcolm X very much to life again, both as man and myth." (Newsweek)
"A spiritually enriching testament to the human capacity for change -- and surely Spike Lee's most universally appealing film." (Washington Post)
"An ambitious, tough, seriously considered biographical film that, with honor, eludes easy characterization." (New York Times)
MALCOLM X
7:45 pm *As this is a double feature, this is an approximate start time. Please arrive on time
MALCOLM X (Spike Lee, 1992 / 202 mins / 14A) Biographical epic of the controversial and influential Black Nationalist leader, from his early life and career as a small-time gangster, to his ministry as a member of the Nation of Islam.
*Minors permitted. Must be 19+ for bar service. Rio Theatre Groupons and passes OK for any single film screening only. Please redeem at the box office. Online sales end an hour before showtime; unless otherwise noted tickets are also available for purchase at the door.
*If you are looking to redeem your tickets to either a canceled Rio Theatre screening or a Rio Theatre gift certificate, please email <riomanagers@gmail.com> with info including your name, canceled receipt number, gift certificate info, what you are wanting to see and when, and we can make the switch for you in advance. Alternately, you can bring this information with you to the venue, and we will do our best to help you at the box office.
Venue Location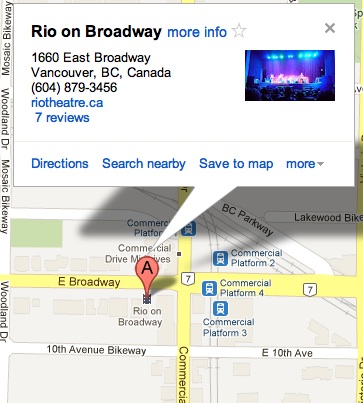 Share this event