Black Girl
6:15pm - Wednesday, Feb 1, 2023
February marks Black History Month, and the Rio Theatre is honouring that with a double bill screening on February 1. We will be featuring two significant titles, including a 4K restoration of Senegalese director Ousmane Sembène's landmark 1966 BLACK GIRL (aka, "La noire de...", it currently sits at #97 in Sight and Sound's most recent poll of The Greatest Films of All Time) paired with what many film-lovers believe to be filmmaker Spike Lee's most important film (not to mention Denzel Washington's most indelible performance), MALCOLM X.
Ousmane Sembène, one of the greatest and most groundbreaking filmmakers who ever lived and the most internationally renowned African director of the twentieth century, made his feature debut in 1966 with the brilliant and stirring BLACK GIRL ("La noire de . . ."). Sembène, who was also an acclaimed novelist in his native Senegal, transforms a deceptively simple plot—about a young Senegalese woman who moves to France to work for a wealthy white couple and finds that life in their small apartment becomes a figurative and literal prison—into a complex, layered critique on the lingering colonialist mindset of a supposedly postcolonial world.
Featuring a moving central performance by Mbissine Thérèse Diop, BLACK GIRL is a harrowing human drama as well as a radical political statement—and one of the essential films of the 1960s. Diop stars here as Diouana, a young woman from Dakar who moves to France to work in a wealthy French couple's home. Initially elated, she quickly becomes disillusioned by the experience — she's made to feel increasingly alienated and "othered" by her employers, who view her as an exotic servant and little more. With Anne-Marie Jelinck, Robert Fontaine.
"Ousmane Sembène lifts the mask on France's racist post-colonial relationship with Senegal in his small yet commanding feature debut." (British Film Institute)
"Fifty-one years after its initial release, this seminal film remains hauntingly relevant." (Bitch Media)
"Sembene keeps his metaphors under control, and the result is a message movie with an unusual depth of characterization." (Chicago Reader)
"Formally spartan, Ousmane Sembne's Black Girl is dense with cool fury." (Village Voice)
Wednesday, February 1
BLACK GIRL
Doors 5:45 pm | Movie 6:15 pm *Start time subject to change. Please arrive on time.
BLACK GIRL (Ousmane Sembène, 1966 / 59 min / French with English subtitles) A Senegalese woman works as a maid in France for a couple who treat her as a slave.
*Minors permitted. Must be 19+ for bar service. Rio Theatre Groupons and passes OK for any single film screening only. Please redeem at the box office. Online sales end an hour before showtime; unless otherwise noted tickets are also available for purchase at the door.
*If you are looking to redeem your tickets to either a canceled Rio Theatre screening or a Rio Theatre gift certificate, please email <riomanagers@gmail.com> with info including your name, canceled receipt number, gift certificate info, what you are wanting to see and when, and we can make the switch for you in advance. Alternately, you can bring this information with you to the venue, and we will do our best to help you at the box office.
Venue Location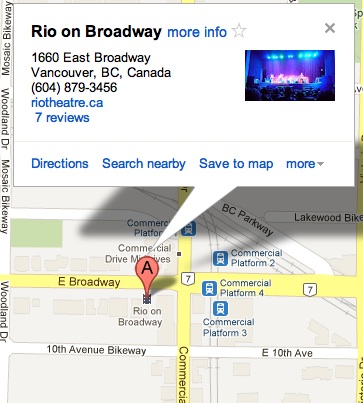 Share this event