Triangle of Sadness
2:15pm - Saturday, Jan 28, 2023
In acclaimed Swedish filmmaker Ruben Östlund's (FORCE MAJEURE, THE SQUARE) wickedly funny Palme d'Or winner TRIANGLE OF SADNESS, social hierarchy is turned upside down, revealing the tawdry relationship between power and beauty. Celebrity model couple, Carl (Harris Dickinson) and Yaya (Charlbi Dean), are invited on a luxury cruise for the uber-rich, helmed by an unhinged boat captain (Woody Harrelson). What first appeared instagrammable ends catastrophically, leaving the survivors stranded on a desert island and fighting for survival. With Holly De Leon, Vicki Berlin.
"An absurd, iconoclastic riot. Ruben Östlund's point may be blunt — yep, rich people are bad — but his telling of it is hilariously, breathlessly entertaining." (Empire Magazine)
"Ruben Östlund's latest brainy satire is a continually self-renewing yet uncompromisingly coherent opus." (AV Club)
"After that final breathless shot, rather than walking out chuckling, you may walk away with your own triangle of sadness engaged, brow furrowed, mouth agape, mind whirring. And isn't that kind of rush worth the price of admission?" (Mashable)
"Don't go in expecting art-house intellectualism. The movie is as loaded with fun as it is with social implications." (Wall Street Journal)
Saturday, January 28
Doors 1:45 pm | Movie 2:15 pm *Start time subject to change. Please arrive on time.
TRIANGLE OF SADNESS (Ruben Östlund, 2022 / 147 mins / 14A / with English subtitles) A cruise for the super-rich sinks, leaving survivors, including a fashion model celebrity couple, trapped on an island.
*Minors permitted. Must be 19+ w/ID for bar service. Rio Theatre Groupons and passes OK for any single film screening only. Please redeem at the box office.
*Advance ticket sales end an hour before showtime; unless otherwise noted tickets are available for purchase at the door.
*If you are looking to redeem your tickets to either a canceled Rio Theatre screening or a Rio Theatre gift certificate, please email <riomanagers@gmail.com> with info including your name, canceled receipt number, gift certificate info, what you are wanting to see and when, and we can make the switch for you in advance. Alternately, you can bring this information with you to the venue, and we will do our best to help you at the box office.
Venue Location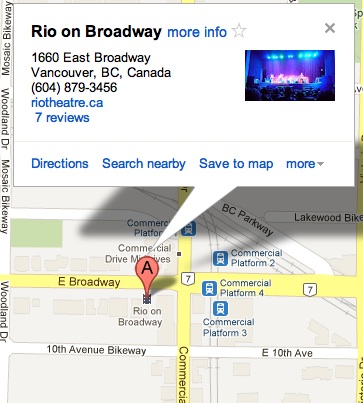 Share this event